Hello, hello! 👋🏻👋🏻
Welcome back to another edition of Tidbits covering all the recent things worth talking about in business, media, and technology.
---
Drinking Glue
In Internet culture, #69 is supposed to be a funny number. So I guess that's supposed to make this edition special. Edgelords like Elon Musk can somehow masterfully insert 69 (and 420) into random situations to conjure up billions of dollars in market cap (and personal wealth). Sadly, I have not mastered that capability, yet, and is not a service I can offer you.
I don't really have anything special to distinguish or honor this occasion, but I will note that like the number 69, many of the articles below are about things that seemed funny (and fun!) when the party was raging…and now a lot of people don't find it so funny (or fun) anymore.
Many people are likely wondering how long this (mostly tech) hangover lasts…Will there be another party soon? Or will it be like the 2000 Dotcom Crash, which took more than a decade to recover from?
Recently, I had a conversation with a friend about the current state of affairs, which triggered a long buried memory of mine from 1st grade that I can't stop thinking about.
There was this literally crazy girl in my class. She was sort of a class clown and did a lot of really unbelievable things…unbelievable even for 1st graders. But she was really FUN to be around because she would do all of these unbelievable things that everyone could enjoy without having to do the unbelievable thing yourself.
One day she was having a LOT of fun.
She decided to drink a whole bottle of Elmer's glue. Not the standard sized bottle, but the super sized refill bottle.
And she was really ENJOYING it!
And everyone watching was really enjoying it, too, because that's special! Not everyday (or any day since) have I seen anyone drink a whole bottle of glue.
She was having a lot of fun, and WOW was she proud when she finished.
But then I will never forget what happened 5 seconds after she finished.
Her whole facial expression changed as her face…scrunched up…the very moment she realized her body was telling her she had a problem.
When I recalled this story, my friend asked if that's where I think we are in the market. I think so!
And an equally funny retort from my friend – He suggests we all go back to drinking glue because life is simpler that way!
As you know, Capital Flywheels has a Paper Portfolio that has also been severely impacted by the recent change of tune in the market…so Capital Flywheels knows firsthand how serious everything has sudden become! Nonetheless, while everyone is now suffering from a major hangover, not all news is bad news…and not all things that go down are dead. Everything rhymes, but not everything is the same. In every crisis there is opportunity. And we can see that already as some of the better capitalized businesses out there (like Microsoft) start to take advantage of the carnage by buying valuable assets on discount.
Capital Flywheels is not an exclusively tech investor / commenter (back in the early days of this blog, I wrote about things like airports, jewelry retailers, insurance, and more!), but tech still seems to be as firmly in the driver seat when it comes to where the world is going as it's been in the last 5 years. And for that, paying attention and preparing for the right opportunities seems like the right thing to do.
And for luck, I'll write 69×420 here a few times for all of us.
69×420
69×420
69×420
---
🗺 World Affairs + Geopolitics
#1 U.S. Examining Alibaba's Cloud Unit For National Security Risks
The Biden administration is reviewing e-commerce giant Alibaba's cloud business to determine whether it poses a risk to U.S. national security, according to three people briefed on the matter, as the government ramps up scrutiny of Chinese technology companies' dealings with U.S. firms.

The focus of the probe is on how the company stores U.S. clients' data, including personal information and intellectual property, and whether the Chinese government could gain access to it, the people said. The potential for Beijing to disrupt access by U.S. users to their information stored on Alibaba cloud is also a concern, one of the people said.

Source: Reuters
National security considerations continue to drive a deeper and deeper wedge into global affairs and economies.
There likely isn't much direct risk to Alibaba's Cloud business since AliCloud doesn't do much business here in the US (and the current investigation is very narrowly focused on US personal data), but this episode continues to show that in a world where civil-military fusion becomes commonplace (in China AND in the US and elsewhere), private companies may not longer be viewed as separate from the state.
Every Chinese tech company could potentially be at risk of US sanctions. And as US government increasingly leans on US tech companies to advance military / defense capabilities, that also means they are potentially in China's firing line as well. There aren't many US tech companies that operate in China, though…just mostly Apple, Tesla, Microsoft, Salesforce, and maybe a few others.
#2 Sweden's Spy Agency Probes Drones Over 3 Nuclear Plants
Sweden's domestic security agency said Monday it has taken over the preliminary investigation into drones that last week were seen hovering over or near the country's three nuclear power plants.

…

Hans Liwang, an associate professor with the Swedish National Defense College, told Swedish broadcaster SVT that Sweden is not sufficiently prepared for this type of event.

"We have not really adapted our way of looking at this type of event to today's reality," he said. " We still think of the world as either at peace or at war."

Source: AP News
I continue to believe drones are one of the most destabilizing technologies the world has seen in well over 50 years. Nuclear weapons are devastating, but in a way, their overwhelming devastation made them a stabilizing invention. Drones are asymmetric…this will be a very destabilizing technology.
As a reminder, drones have already been used to:
2/ Assassinate political targets,
3/ Attack naval ships (even off the coast of California),
And more.
#3 Security Scanners Across Europe Tied To China Govt, Military
At some of the world's most sensitive spots, authorities have installed security screening devices made by a single Chinese company with deep ties to China's military and the highest levels of the ruling Communist Party.

The World Economic Forum in Davos. Europe's largest ports. Airports from Amsterdam to Athens. NATO's borders with Russia. All depend on equipment manufactured by Nuctech, which has quickly become the world's leading company, by revenue, for cargo and vehicle scanners.

…

A growing number of Western security officials and policymakers fear that China could exploit Nuctech equipment to sabotage key transit points or get illicit access to government, industrial or personal data from the items that pass through its devices.

…

"The data being processed by these devices is very sensitive. It's personal data, military data, cargo data. It might be trade secrets at stake. You want to make sure it's in right hands," said Bart Groothuis, director of cybersecurity at the Dutch Ministry of Defense before becoming a member of the European Parliament. "You're dependent on a foreign actor which is a geopolitical adversary and strategic rival."

Source: AP News
A very common theme we have discussed recently is the disintegration of trust between nations, especially between US and China. This is a very challenging situation to recover from because there is no game theory move that easily resolves trust issues. Once you no longer trust someone (and vice versa), neither side will want to take actions to recreate trust because the easiest way to restore trust is usually for one party to make itself vulnerable or give up some value as a good-faith signal that they are engaged in a long-term repeated game / relationship. This is why if you want to get on someone's good side, giving them a gift or opening up / sharing some personal thoughts works so well. But if you distrust someone, neither of these actions are easy to do.
On this scanner issue, specifically, it's a lot like the Huawei situation. No known security incidents, but potential for abuse. Unless you can trust someone, how can you accept national security risk even if there have never been known incidents?
A challenging situation indeed.
---
🤑 Economics + Markets
#4 China Cuts Mortgage Reference Rate For First Time In Nearly 2 Years, Benchmark Lending Rate For Second Straight Month
China cut its benchmark lending rate for the second consecutive month on Thursday in the latest move to shore up the cooling economy, while also lowering a mortgage reference rate for the first time in nearly two years.

Source: SCMP
Unlike the US, China is loosening monetary and fiscal policy. China didn't loosen during the pandemic because of how well it stamped out Covid outbreaks early on. But in recent months, China has had to contend with the aftermath of a rapidly weakening property market and rolling Covid outbreaks across the country.
Currently, China's GDP growth is still holding up better than economists expect. Not clear if the loosening is merely to support the economy given rising pressures or if policymakers already see data that suggests a rapid slowdown is ahead.
#5 Evergrande, Kaisa And Other Indebted Developers Get A Break As China's Rate Cuts Release Funds To Relieve Their Cash Crunch And Mounting Debt
China's publicly traded developers soared on the stock market, as the first cut in mortgage rates in two years combined with a government plan to grant them easier access to sales receipts brought much-needed relief to their cash crunch and mounting debt.

Source: SCMP
Some loosening on property as well.
#6 Netflix, Peloton Bring Pandemic-Stock Era to Shuddering Halt
Netflix Inc. and Peloton Interactive Inc., two of the highest-profile stars of the lockdown era, both plunged Thursday — the latest sign that investors have moved on from the so-called pandemic trade. Netflix expects to add a paltry 2.5 million users in the current quarter, well short of estimates. Peloton, meanwhile, is slashing costs to cope with slowing demand for its stationary bikes.

…

Others are suffering as well. Zoom Video Communications Inc., the owner of the ubiquitous videoconferencing software, is trading at the lowest level since May 2020, as is e-signature company DocuSign Inc. Both stocks have lost more than half of their market values from record highs and slid further after Netflix's results. Etsy Inc., the e-commerce company that saw strong pandemic demand for face masks and other products, is down more than 45% from a November peak. It closed Thursday at its lowest since May.

Source: Bloomberg
In US capital markets, high valuation growth and tech stocks continue to be hammered. During the weekend, tech stocks took a turn for the worst when pandemic-winners Peloton and Netflix both saw negative headlines. Peloton appears to be heading for a hard landing as demand was accelerated forward. The same is possibly true of Netflix after reporting in-line Q4 results but guided to weak subscriber additions for Q1.
---
👻 Cryptocurrencies + NFTs
#7 Bank of Russia Seeks to Outlaw Mining and Trading of Crypto
Russia's central bank proposed a blanket ban on the use and creation of all cryptocurrencies within one of the world's biggest crypto-mining nations, citing the dangers posed to the country's financial system and environment.

Crypto bears the hallmarks of a pyramid scheme and undermines the sovereignty of monetary policy, the central bank said in a report Thursday. It also took aim at mining, which it said hurts the country's green agenda, jeopardizes Russia's energy supply and amplifies the negative effects of the spread of cryptocurrencies, creating incentives for circumventing attempts at regulation.

…

The central bank's hard line against crypto dovetails with the position of Russia's powerful security services, which also back a compete ban domestically to prevent it from being used to fund the country's opposition, according to two people familiar with the issue. More than 7 trillion rubles ($92 billion) of assets are held in about 17 million cryptowallets in Russia, they said.

Source: Bloomberg
Not a lot of good news in crypto space recently, especially since crypto is a risk-on asset and has sold off with the rest of high growth / high valuation tech.
I think it's interesting that both China and Russia have / is planning on banning cryptocurrencies because of its destabilizing effects, while the US (and most western countries) still have no view on what they want to do.
Also interesting that Russia is concerned about cryptocurrencies creating an avenue for funding opposition political opponents. Since cryptocurrencies are global, it opens up a channel where foreign powers can fund political parties and candidates that support their interests. Obviously not something Russia or China would be interested in. This is something Capital Flywheels flagged as a risk in the last edition of Tidbits since US politicians are starting to look into selling NFTs to raise political funds.
#8 Making It Easier For Everyone To Buy NFTs
Buying digital goods should be as simple as buying a T-shirt or coffee pods on an e-commerce site. You can make your purchase with one click — that's it.

That's not the case for many NFTs, or non-fungible tokens. Today, if you want to buy an NFT — such as a digital art piece — you first need to open a crypto wallet, buy crypto, then use it to purchase an NFT in an online marketplace.

Cryptocurrency enthusiasts are used to this process. But for most people, it's not simple, it's not intuitive. We think it should be much easier. That will ensure NFTs can be for everyone.

As an important step in this mission, we're excited to announce today that we're partnering with Coinbase to let people use their Mastercard cards to make purchases on Coinbase's upcoming NFT marketplace.

Source: Mastercard
This is actually a fascinating Judo move. Mastercard's press release explicitly highlights how hard it is to actually engage in the current cryptocurrency ecosystem. The whole ecosystem is not designed to be user friendly at the moment.
And Mastercard is going to make it more user friendly by bringing portions of it (NFTs, specifically) much more closer to the traditional finance world. NFTs are probably the most culturally interesting thing to come out of crypto so far. Right now, you NEED to buy cryptocurrencies in order to buy an NFT. But if you can buy an NFT by entirely skipping the cryptocurrency portion, then crypto ecosystem loses one of its most interesting use cases. Yes, NFTs are cryptocurrencies themselves (since they are unique tokens), but there is no getting around the fact that Mastercard could disintermediate a significant portion of the crypto plumbing.
#9 Facebook Owner Meta Dives Into NFT Digital Collectibles Craze
Teams at Facebook and Instagram are readying a feature that will allow users to display their NFTs on their social media profiles, as well as working on a prototype to help users create — or mint — the collectible tokens, according to several people familiar with the matter.

Two of the people said that Meta has also discussed launching a marketplace for users to buy and sell NFTs — essentially a digital asset representing art or imagery that cannot be replicated.

…

Instagram head Adam Mosseri in December said it was "actively exploring NFTs", without sharing specific details. But Instagram is now internally testing its NFT showcasing feature, said two people with knowledge of the fast-developing plans.

Source: FT
Seems like Facebook is pretty close to launching an NFT marketplace so that you can buy and sell Instagram pictures. NFTs are basically pictures anyway.
#10 Introducing NFTs on StockX
Introducing NFTs on StockX, new digital tokens providing unprecedented access and utility for our global community. These exclusive NFTs connect coveted physical products with investable digital assets, from sneakers to creators to experiences and more.

Own the most popular releases digitally and start saving on fees (and closet space). Each Vault NFT is tied to the same physical item, stored in our brand new, climate-controlled, high-security vaults inside StockX facilities.

So if you're bullish on a shoe, consider investing in a Vault NFT. You take possession of the NFT immediately after the transaction is complete, meaning it is the fastest way to flip. And with no shipping costs, and market-leading low seller fees at a fraction of the cost, there's a lower hurdle for profitability.

Source: StockX
Most crypto / NFT projects sound interesting but impractical to me. But I find this StockX effort to be very interesting actually.
While some NFT projects like Bored Apes have created new IP out of thin air, creating new IP of any kind that people want is pretty hard…instead, StockX will tap into existing IP that people already care a lot about – sneakers (and other collectibles that already trade on the platform).
More importantly, one of the interesting but difficult-to-implement ideas floating around NFT space is how to tie digital NFTs to physical world / products. StockX has a really interesting position here because they already do authentication and custody of rare sneakers. Since the sneakers are housed in their facilities and authenticated by their experts, you know the item is there (and non-duplicable) and authentic. StockX can easily issue an NFT tied to that physical product that they maintain in their facilities.
Of course, this is a centralized service, so it runs counter to the decentralization desires of some crypto participants. But in the end, I think this implementation could be interesting enough for people to overlook the centralization aspects. Decentralization is really the carrion call of a very specific set of crypto participants, namely those that see government and central banks as bad. Most normal people don't have these views, even if they think government is working poorly.
#11 MicroStrategy Plummets as SEC Rejects Its Bitcoin Accounting
MicroStrategy Inc. can't strip out Bitcoin's wild swings from the unofficial accounting measures it touts to investors, the SEC said.

…

The enterprise software maker, which said in 2020 that buying and holding Bitcoin was one of its key business strategies, used non-GAAP measures in its Form 10-Q for the quarter that ended Sept. 30, 2021 to show investors what its income would have been if it didn't have to impair the volatile cryptocurrency.

Source: Bloomberg
So…if Bitcoin goes down, you can't just pretend you didn't lose money. Nice try, MicroStrategy. (Same will apply to Square and Tesla and whoever else bought Bitcoin on their balance sheet.)
#12 Pudgy Penguins NFTs Infighting Turns Ugly as Crypto Mania Cools
The infighting is getting ugly among the Pudgy Penguins virtual community as one of the most successful non-fungible token projects gets swept up in the collapse in crypto prices.

Community dissatisfaction with the speed at which the founding team was developing the project come to a head in recent days with owners of the virtual collectibles seeking their ouster. That's a far cry from July, when the cherubic-like cartoon creatures became an overnight sensation and were snapped up by buyers worldwide.

…

What started the Pudgy owners' rebelling was an egg. The team behind the Penguins sent NFT holders free eggs, containing a surprise and expected to hatch on Christmas. Everyone held their breath, but what they got was a fishing rod, misspelled as "rog," said Juan Angelus, who owns two Pudgy Penguins and is an active member of the community.

…

"The founders are very young, they are all college students," Angelus said. "The community revolted. We essentially voted them off the island."

Source: Bloomberg
I don't really know what to say here. But it's interesting.
If NFT is art and you buy it with the expectation that the art continues to evolve, but you don't like how the artist advances the project…does it help if you get rid of the artist?
If you commissioned Leonardo da Vinci for the Mona Lisa and paid him when he was 5 strokes away from finishing, and then he decides to put the ugliest stroke humankind has ever seen on it, would firing him help?
---
💬 Media + Games
#13 Microsoft To Acquire Activision Blizzard To Bring The Joy And Community Of Gaming To Everyone, Across Every Device
With three billion people actively playing games today, and fueled by a new generation steeped in the joys of interactive entertainment, gaming is now the largest and fastest-growing form of entertainment. Today, Microsoft Corp. (Nasdaq: MSFT) announced plans to acquire Activision Blizzard Inc. (Nasdaq: ATVI), a leader in game development and interactive entertainment content publisher. This acquisition will accelerate the growth in Microsoft's gaming business across mobile, PC, console and cloud and will provide building blocks for the metaverse.

Microsoft will acquire Activision Blizzard for $95.00 per share, in an all-cash transaction valued at $68.7 billion, inclusive of Activision Blizzard's net cash. When the transaction closes, Microsoft will become the world's third-largest gaming company by revenue, behind Tencent and Sony. The planned acquisition includes iconic franchises from the Activision, Blizzard and King studios like "Warcraft," "Diablo," "Overwatch," "Call of Duty" and "Candy Crush," in addition to global eSports activities through Major League Gaming. The company has studios around the world with nearly 10,000 employees.

Source: Microsoft
This is a big bold move. Microsoft has been strategically quiet for the last decade. Even when they do big deals (like LinkedIn), Microsoft has learned how to be very quiet about what they are up to. Activision, however, is a pretty loud move.
One of the things we've talked about before is that strong balance sheets matter because it allows you to take advantage of chaos, just like how Microsoft is doing right now.
#14 Teaching Internet Safety on Messenger Kids
Today we're launching Pledge Planets on Messenger Kids. This interactive in-app activity helps kids learn and practice how to make healthy decisions online, stay safe and build resilience. Kids can explore different planets based on the tenets of the Messenger Kids Pledge: Be Kind, Be Respectful, Be Safe and Have Fun.

In each episode, kids help characters navigate various social situations and make decisions that lead to positive outcomes. By completing the games, kids will see that their respectful, safe and fun actions have a big impact on those around them.

Source: FB
One way of looking at this is that it's crazy that people will let Facebook teach children about what is "healthy" behavior online.
Another way of looking at this is Capitalism is working – Bad behavior online is destroying Facebook's business so they have a vested interest in teach people to be nice online so that people will want to be on Facebook (and related properties).
---
💰 Fintech
#15 Ford-Stripe Partnership Aims to Transform Cars Into Tokenized Wallets
Through the long-term evolution of a five-year partnership announced Monday, where Stripe will be a payment service provider for Ford and its dealers in Europe and North America, cars will ultimately function as tokenized wallets.

…

In terms of mechanics, Stripe Connect will enable Ford to facilitate and route a customer's payments to the correct Ford or Lincoln dealership. Dyett told Webster that an improved payments acceptance experience at the dealer can improve the engagement between the consumer, the dealer and the brand.

"We're powering the financing part of the strategy," he said, but the payments engagement will extend well beyond the confines of buying a car online.

He offered another example, wherein a consumer buys an electric F-150 Lightning, stops at a Ford charging network, takes out their charger and plugs it in.

"Immediately," Dyett said, "your vehicle could be 'talking' to the charger and to the network, and Ford can automatically process the payment," tied to charging the truck, eliminating the need to get out a wallet or a card.

Elsewhere, he said, an electrician who's using a Ford truck in service of their employer, charging the vehicle at home, can do so while ensuring that the employer pays the cost of the charge.

Source: PYMNTS
Everything will eventually have embedded payments in it?
Also seems to expand Stripe far beyond what would normally constitute payments. This is more like laying down the groundwork for a programmable economy.
#16 Verifone and Affirm Partner to Provide More Flexible Omnichannel Payment Offerings
Verifone, a global FinTech leader and payment solution provider to the world's best-known retail brands, and Affirm, the payment network that empowers consumers and helps merchants drive growth, today announce a new partnership that will make Affirm's transparent and flexible payment options widely available on Verifone's eCommerce and card-present payment solutions. The partnership will enable merchants to offer their customers the ability to pay at their own pace using Affirm online and in-store, reinforcing Verifone's commitment to staying ahead of market trends and meeting merchant and consumer needs in the ever-evolving payment space. Merchants will be able to offer Affirm's full range of payment options, including biweekly and monthly payments with as low as 0% APR.

…

In-store, the clerk or consumer chooses to pay with Affirm on the POS or Payment Terminal. The Verifone terminal displays a unique QR code for the transaction, which the customer scans with their phone camera and completes the transaction in the Affirm app.

Source: Affirm
Square got there first with Afterpay. Marries BNPL with merchant acquiring / POS distribution.
#17 Plaid Buys Cognito As It Moves Beyond Merely Connecting Accounts
Cognito is an interesting buy for Plaid, offering verification services for the fintech world, which is distinct from what its acquirer is best known for. In practice, Cognito offers ID verification, along with help with thorny issues like know your customer (KYC) rules, and anti-money laundering requirements.

…

TechCrunch asked Perret about where Plaid is heading from a product perspective. Our hunch, given the Cognito deal, was that it intends to build an ever-wider cadre of services that customers of its core product can add as they will to their existing contracts. As Cognito will be priced as an add-on, our thesis felt directionally correct.

The CEO noted that Plaid had launched a product called "Signal" recently, aimed at helping reduce fraud as an example of what the company has been working on in recent quarters. Plaid has also built a consumer portal where end-users can check their various connection points.

That's illustrative. Plaid's work to build more services atop its core product — which feels very similar to the product work that Stripe has done on top and adjacent to its payments nucleus — doesn't appear to be merely a push to better support business customers. It has a consumer play in the mix as well. I would add at this juncture that the company remains, in our view, a firmly B2B company today.

Source: TechCrunch
---
🛍 Commerce
#18 Amazon Reimagines In-Store Shopping With Amazon Style
Customers can browse brands they know and love while also discovering new and emerging designers across hundreds of top brands throughout the store. Using the Amazon Shopping app, customers can send items to a fitting room, where they can use a touchscreen to browse more options, rate items, and request more sizes or styles that are delivered directly to their room within minutes. Amazon Style combines Amazon's love of fashion with innovative technology and world-class operations to help customers find looks they'll love.

…

Amazon Style is built around personalization. Our machine learning algorithms produce tailored, real-time recommendations for each customer as they shop. As customers browse the store and scan items that catch their eye, we'll recommend picks just for them. For an even more tailored experience, customers can share information like their style, fit, and other preferences to receive more refined recommendations. Even shopping for deals is personalized and convenient—customers can easily view deals in store that match their preferences right in the Amazon Shopping app.

Source: Amazon
Interesting ideas but feels a lot like Google Glass. Not sure it's the right mix of technology and fashion.
#19 Shopify And JD.Com Unlock World's Largest Ecommerce Market For Merchants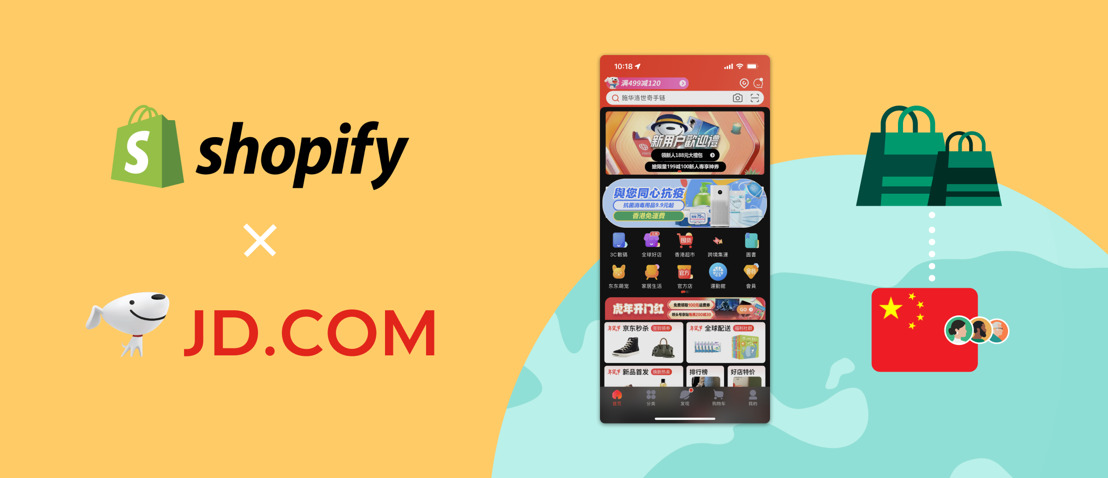 A partnership between Shopify and JD.com means that we're unlocking the world's largest ecommerce market for merchants by giving them access to one of China's leading ecommerce marketplaces. By letting merchants easily list their products on JD's cross-border ecommerce platform JD Worldwide, this new sales channel opens access to JD's 550 million active customers in China who are shopping for authentic, high-quality products from brands all over the world.

…

The JD Marketplace sales channel is part of a larger strategic partnership between Shopify and JD.com that aims to help solve cross-border commerce challenges across product sourcing, selling, and logistics for merchants in the US and China. The sales channel will be available to Shopify's US merchants starting today, January 18.

Source: Shopify
This deal goes both ways. Allows Shopify merchants to enter China more easily. And it allows JD's merchants to act as suppliers for Shopify's merchants.
#20 Shopify Tumbles on a Report of It Terminating Fulfillment Contracts
Shopify Inc. plunged by the most since March 2020 after a report that the Canadian e-commerce company terminated contracts with several warehouse and fulfillment partners.

…

"As they reach a 'fork in the road,' the timing seems right for Shopify to alter course in fulfillment, the question being in which direction do they turn," Sebastian said in a note to clients.

"In the evolving e-commerce landscape, it's pretty clear that fulfillment and delivery need to be core competencies, and for Shopify, the sweet spot of an 'asset light' hybrid approach has proven to be a challenge to scale," he said.

Shopify confirmed that it has canceled contracts but declined to provide more details on the number of fulfillment centers and warehouses impacted by the changes. The company said its capacity to handle orders won't be affected.

Source: Bloomberg
When Shopify announced the Shopify Fulfillment Network a few years ago, there was a lot of promise since it was asset-lite and relied on 3rd party logistics assets that could be unified into a network that could potentially rival Amazon's.
However, the effort has progressed a lot slower than expected, and the pandemic has further elevated the importance and value of logistics to merchants. As a result, Amazon's value to merchants has increased during the pandemic, while Shopify has been unable to match.
Back in Tidbits #66, I highlighted a Bloomberg profile of Shopify. There were some comments about Shopify's fulfillment strategy that are especially interesting to consider in light of these new developments:
Lütke says logistics "is a tough nut to crack for byte companies"—meaning firms that have gotten comfortable writing software, with none of the headaches of employee injuries and high-profile union campaigns. If a ruthless, Amazon-style efficiency is required to run such a network, Lütke says, "then I don't think we're going to succeed. We'll do it differently, because we don't want to show up like this."

It's also true that Amazon has mastered a kind of operational efficiency Shopify never had to cultivate. Instead, Shopify executives claim improbably that rapid delivery of the kinds of boutique products its merchants sell isn't that important to shoppers. "My guess is that is not going to hold water," says Mark Mahaney, head of internet research at Evercore ISI. "Over time, if someone delivers you a product within a day, and someone doesn't, you will go with the solution that gets you the product in a day. I think that will be a big challenge to Shopify."

Source: Bloomberg
---
👨‍💻 Technology
#21 China Notifies Firms of Tougher Investment Rules for Big Tech
China has notified some companies of new rules that would require the country's biggest internet firms to seek approval for investment deals, a mechanism that is likely to curb domestic technology giants from growing even bigger through acquisitions, according to people familiar with the issue.

The country's top internet regulator, the Cyberspace Administration of China, recently told some companies that it would establish a new mechanism that requires internet companies to obtain formal approval for investment deals if they have 100 million users or more or have posted revenue in the previous year of at least 10 billion yuan, equivalent to $1.57 billion, the people said.

…

The Cyberspace Administration of China, on its official account on social media WeChat, said that it hasn't publicly announced any new rules. Tencent and Alibaba didn't respond to requests for comment.

Source: WSJ
When this news broke initially, it had quite a negative impact on Chinese stocks, especially ADRs trading in the US. However, the Chinese Cyberspace Administration of China quickly refuted it (though the actual statement leaves room for interpretation…the CAC only denied issuing new rules, but tighter investment rules for tech are not necessarily "new" to begin with.).
This is not a China-specific story. Governments around the world are wrestling with how to control the rapidly growing power of tech firms.
As Capital Flywheels has discussed before, competition in the 21st Century is rapidly shifting from country vs country to country vs tech. China is rightly proud of its own tech giants, but China also likely understands the threat of tech to state power more than any other country on Earth.
…and over at Ant, the situation remains murky even though we are now more than a year past the initial crackdown. Chinese state media recently broadcasted a documentary implicating Ant Financial as part of a high profile corruption case. This came shortly after Cinda (a state-backed financial firm) backed out of a deal to invest in Ant (though, maybe "bail out" might be a more appropriate term).
#22 Google Is Building An AR Headset
The search giant has recently begun ramping up work on an AR headset, internally codenamed Project Iris, that it hopes to ship in 2024, according to two people familiar with the project who requested anonymity to speak without the company's permission.

…

The executive overseeing the effort is Clay Bavor, who reports directly to CEO Sundar Pichai and also manages Project Starline, an ultra-high-resolution video chat booth that was demoed last year.

If Starline is any indication, Project Iris could be a technical marvel. People who have tried Starline say it's one of the most impressive tech demos ever. Its ability to recreate who you're chatting with in 3D is supposedly hyper-realistic.

…

I've heard that Google is hoping to ship Starline by 2024 along with Iris. It recently hired Magic Leap's CTO, Paul Greco, to the team in a previously unreported move. A pilot program for using Starline to facilitate remote meetings is in the works with various Fortune 500 companies. Google also wants to deploy Starline internally as part of its post-pandemic hybrid work strategy.

Source: The Verge
Starline sounds like really interesting technology, but with a very narrow market. Would definitely be interesting to see if that technology can be turned into an AR-type glass product.
#23 Gaming Giant Unity Wants to Digitally Clone the World
Five years ago, Unity's executives had a realization: In the real world, there are a lot of situations that would enormously benefit from NPCs. Think about designing a roller coaster. Engineers can't ask humans to stand up on a roller coaster ahead of a hairpin turn to test whether they'd fly off. And they definitely can't ask them to do it 100 or 1,000 times, just to make sure. But if an NPC had all the pertinent qualities of a human being—weight, movement, even a bit of impulsiveness—the engineer could whip them around that bend 100,000 times, like a crazed kid playing RollerCoaster Tycoon, to discern under which circumstances they'd be ejected. The roller coaster, of course, would be digital too, with its metal bending over time and the speed of its cars sinking and rising depending on the number of passengers.

Unity spun that idea into an arm of its business and is now leveraging its game engine technology to help clients make "digital twins" of real-life objects, environments, and, recently, people. "The real world is so freaking limited," said Danny Lange, Unity's senior vice president of artificial intelligence, in Unity's San Francisco headquarters last October. Speaking with WIRED in 2020, he had told me, "In a synthetic world, you can basically re-create a world that is better than the real world for training systems. And I can create many more scenarios with that data in Unity."

…

At Uber, Lange would watch as engineers tossed dummies in front of self-driving cars again and again to test vehicles' ability to brake for humans. The car would have to identify that the object was human-shaped.

"You can do that a few times," says Lange. "But how many times does it take [to train the AI]? A thousand? In a game engine, you can have an NPC actually trying to get killed in front of a car, and you can see if the car can actually prevent it." In Unity, he said, an engineer could generate an amount of data corresponding to driving an Uber vehicle 500 million miles every 24 hours.

Source: Wired
Digital twins will be one of the most important developments in the coming years.
---
🍪 Semiconductors + Chips
#24 Intel Announces Next US Site with Landmark Investment in Ohio
Intel today announced plans for an initial investment of more than $20 billion in the construction of two new leading-edge chip factories in Ohio. The investment will help boost production to meet the surging demand for advanced semiconductors, powering a new generation of innovative products from Intel and serving the needs of foundry customers as part of the company's IDM 2.0 strategy.

…

Planning for the first two factories will start immediately, with construction expected to begin late in 2022. Production is expected to come online in 2025, when the fab will deliver chips using the industry's most advanced transistor technologies. Ohio will be home to Intel's first new manufacturing site location in 40 years.

Source: Businesswire
#25 Cadence Design Systems Aims To Cash In On New Custom-Chip Era
Cadence and rivals Synopsys Inc and Siemens EDA are at the center of a microchip industry shift as cloud computing providers, software makers and others who traditionally have bought semiconductors from a few big companies now want to draw up their chips own in-house.

Tesla, Apple and Alphabet Inc's Google are among the leaders of in-house design. Executives across industries have taken note of how custom chips help set products apart, said Anirudh Devgan, who became Cadence's chief executive last month. The company counts Tesla as a client and analysts say Apple is as well.

…

Tesla has always used a consolidated approach, and the results contrast sharply with those of other automakers. Despite a global chip shortage, Tesla reported record fourth-quarter production, in part because close control of its chip and system designs allowed the company's engineers to quickly rewrite code to use chips that were available.

…

In decades past, most of Cadence's customers were traditional semiconductor firms. But the newer breed of "systems" customers, which dream up full products in which chips play a central role, now account for about 40% of Cadence's revenue, said Jay Vleeschhouwer, head of software research for Griffin Securities.

Source: Reuters
I'm sort of late to the Cadence story. It's been one of the best performing stocks over the past decade (albeit from a very depressed state in 2009). However, the future looks even brighter. The importance of EDA is rising, and the demand for chip design is spreading to more and more firms. This means Cadence's TAM is growing both wider (more potential customers) and deeper (each customer finding more and more value).
---
🚘🌽 "Nuts and Bolts" Tech
#26 Tesla Driver Charged With Manslaughter In Deadly Autopilot Crash Raises New Legal Questions About Automated Driving Tech
A Tesla Model S driver accused of crashing his car while Autopilot was activated had run a red light and slammed into a Honda Civic, killing its occupants.

…

The charges against Riad appear to mark the first time a driver in the United States was prosecuted for a felony while using semi-automated driving technology. The case has not only renewed discussion about the dangers of misusing the technology but could potentially set a standard for holding motorists legally liable in similar incidents.

Source: NBC News
So if you kill someone with your autonomous car (in this case, a Tesla on autopilot), you're at fault even if it's caused by Tesla's fault algorithm.
---
🤔 Hmm… / 😮 Much Wow
#27 Advanced AIs Exhibiting Depression and Addiction, Scientists Say
A new preprint study out of the Chinese Academy of Science (CAS) claims that many big name chatbots, when asked the types of questions generally used as cursory intake queries for depression and alcoholism, appeared to be both "depressed" and "addicted."

Done in tandem with the the Chinese chat bot company WeChat and entertainment conglomerate Tencent, the study found that all of the bots surveyed — Facebook's Blenderbot, Microsoft's DiabloGPT, WeChat and Tencent's DialoFlow and the Plato chatbot from the Chinese corporation Baidu — scored very low on the "empathy" scale, and half of them would be considered alcoholics if they were, you know, people.

The researchers at the CAS' Institute of Computing Technology tested the bots they studied for signs of depression, anxiety, alcohol addiction, and empathy, and per their preprint, became curious about bots' "mental health" after reports emerged in 2020 about a medical chatbot telling a test patient that they should kill themself.

…

Buried four pages into the study is the potential source for the bots' malaise: that all four bots were pre-trained using Reddit comments, which frankly does not seem like a very good idea!

Source: Futurism
Fascinating.
I'm not sure why anyone would think training a bot on Reddit (or Twitter or any social media) is a good idea. But it basically confirms what we know about people on social media (specifically Reddit in this study) – People are depressed and lack self-control.