Hello, hello! 👋🏻👋🏻
Welcome back to another edition of Tidbits covering all the recent things worth talking about in business, media, and technology.
Less "news" in this edition, but a lot of thought-provoking think pieces that outline how society's tectonic plates are shifting.
People are really thinking outside of the box!
Indeed a time for change. Perhaps COVID-19 has reminded us of how short life is, and there is never a better time to pursue ideas and dreams. Perhaps COVID-19 has reminded us that rules can only stop us if we choose to obey them.
---
🗺 Geopolitics
#1 How DOD is taking its Mission to Space
While others this past weekend have been looking back to 9/11, U.S. Space Command is looking forward to the next domain of warfare — in the heavens — to be directed from a Space Electromagnetic Operating Base somewhere in the United States.

…

The majority of military communications capabilities use radio waves and microwaves. Infrared and ultraviolet spectrums can disseminate large volumes of data, including video, over long distances – for example, intelligence collection and distribution. The military can also use lasers offensively, to dazzle satellite sensors, destroy drones, and for other purposes, according to the CRS.

Electronic warfare is not new – it was extensively used in World War II and its uses have been growing ever since.

Source: The Cipher
Space as a military theater is quickly becoming reality. Interesting how it also converges with digital and cyber warfare since so much of the world's digital communications also now partially depend on satellite / space infrastructure.
#2 Stanford professors urge U.S. to end program looking for Chinese spies in academia
A group of Stanford University professors has asked the Justice Department to stop looking for Chinese spies at U.S. universities, joining an effort by human rights groups to end a Trump administration program they said caused racial profiling and was terrorizing some scientists.

The "China Initiative," launched in late 2018, aimed to prevent U.S. technology theft by China but has since "deviated significantly from its claimed mission," according to a Sept. 8 letter here signed by 177 Stanford faculty members and made public by them on Monday.

"(I)t is harming the United States' research and technology competitiveness and it is fueling biases that, in turn, raise concerns about racial profiling," the letter said.

…

Former U.S. Energy Secretary and Nobel prize winner Steven Chu, a professor at Stanford, said that rather than help protect U.S. advantages in technology and understanding, the program risked undermining America's lead in science.

"We were the brain gain for half a century," he told Reuters in an interview. "You really want to throw this away?"

Source: Reuters
The challenge with warfare in the 21st Century is that it's becoming infused into civil society. In the pre-information age, warfare is clearly defined. Now it is inseparable from civil society. Even military-capable technologies (like AI) is inseparable from civil society.
And, of course, knowledge itself is now more important than ever and is inseparable from civil society. This makes academic institutions like colleges battlegrounds. The US has been pursuing a bit of a witch hunt (and witch hunt really is the right word), but it is a difficult problem. The problem isn't that the US thinks there are a lot of Chinese spies. The problem is that the US is concerned that academics of Chinese descent are prone to blackmail. Academics of Chinese descent may have relatives in China that can be used as bargaining chips to compel them to act in ways that they would not otherwise.
This is ultimately not a solvable problem, and Steven Chu is probably making the right argument here – The US should double down on its own advantage as a brain-gainer even if it risks letting in a spy or two. Making it difficult for foreign talent to contribute in the US is not likely a winning strategy.
#3 The promise of open-source intelligence
The great hope of the 1990s and 2000s was that the internet would be a force for openness and freedom. As Stewart Brand, a pioneer of online communities, put it: "Information wants to be free, because the cost of getting it out is getting lower and lower all the time." It was not to be. Bad information often drove out good. Authoritarian states co-opted the technologies that were supposed to loosen their grip. Information was wielded as a weapon of war. Amid this disappointment one development offers cause for fresh hope: the emerging era of open-source intelligence (osint).

New sensors, from humdrum dashboard cameras to satellites that can see across the electromagnetic spectrum, are examining the planet and its people as never before. The information they collect is becoming cheaper. Satellite images cost several thousand dollars 20 years ago, today they are often provided free and are of incomparably higher quality. A photograph of any spot on Earth, of a stricken tanker or the routes taken by joggers in a city is available with a few clicks. And online communities and collaborative tools, like Slack, enable hobbyists and experts to use this cornucopia of information to solve riddles and unearth misdeeds with astonishing speed.

…

Such an emancipation of information promises to have profound effects. The decentralised and egalitarian nature of osint erodes the power of traditional arbiters of truth and falsehood, in particular governments and their spies and soldiers. For those like this newspaper who believe that secrecy can too easily be abused by people in power, osint is welcome.

…

Some will warn that osint threatens national security—as when, for example, researchers use data from fitness trackers to reveal remote cia outposts and radar satellites to locate American missile-defence systems. But, if osint can tell the world about such things, a country's enemies are already able to know them. Pretending otherwise does not make states any safer.

Others will point out that osint can be wrong. After the Boston Marathon bombing in 2013 internet users scrutinised the crime scene and identified several suspects. All were innocent bystanders. Or osint could be used by bad actors to spread misinformation and conspiracy theories.

Source: The Economist
Fascinating look into how intelligence is also becoming more and more intwined with civil society.
There are benefits but also drawbacks. The benefits is that it brings more transparency everywhere. But the drawback is that information and intelligence will increasingly pass through the realm of public opinion first. This may make it hard for diplomacy and back-room bargaining to take place.
The international realm and the domestic realm is quickly merging, and that makes international politics tricky.
#4 Australia: Strategic shifts led it to acquire nuclear subs
Australia has canceled a contract with France for conventional submarines and instead will build nuclear-powered submarines using U.S. technology because of changing strategic conditions in the region, Prime Minister Scott Morrison said Thursday.

President Joe Biden announced on Wednesday a new U.S. security alliance with Australia and Britain that will help equip Australia with a nuclear submarine fleet.

The agreement would make Australia the first country without nuclear weapons to obtain nuclear-powered submarines.

…

French Foreign Minister Jean-Yves Le Drian expressed "total incomprehension" at the decision and criticized both Australia and the United States.

"It was really a stab in the back. We built a relationship of trust with Australia, and this trust was betrayed," Le Drian said Thursday on France-Info radio.

Source: AP News
It's interesting that France seems to be making more noise about this than China is.
#5 Japan's defense minister draws red line in island dispute with China
In an exclusive interview with CNN, Japanese Defense Minister Nobuo Kishi said the Senkaku Islands, known as the Diaoyu Islands in China, are unquestionably Japanese territory and would be defended as such, with Tokyo matching any Chinese threat to the islands ship for ship, and beyond if necessary.

Japan has been expanding its Self-Defense Forces, adding state-of-the-art F-35 fighter jets andconverting warships to aircraft carriers for them. It is also building new destroyers, submarines and missiles, all the while noting its military expenditure still pales in comparison with China's increased military spending.

…

Tensions over the uninhabited rocky chain — 1,200 miles (1,900 kilometers) southwest of Tokyo but only a third of that distance from Shanghai — have simmered for years, and claims over them date back centuries.

…

Japan's westernmost island is at the very end of a string of Japanese possessions paralleling the Chinese coast and extending south some 700 miles (1,125 kilometers) from the main island of Kyushu, through the military hub of Okinawa and the resort island of Ishigaki, to the tiny island of Yonaguni.

Source: CNN
I continue to be amazed that so much of international peace could just hinge on a few (probably useless?) islands.
---
🤑 Economics + Markets
#6 Evergrande Crisis Escalates as Protests Break Out in China
China Evergrande Group is facing mounting protests by homebuyers, retail investors and even its own employees, raising the stakes for authorities in Beijing as they try to prevent the property giant's debt crisis from sparking social unrest.

…

The latest uproar follows Evergrande's proposal late last week to impose lengthy repayment delays on holders of WMPs, the lightly regulated investment vehicles that have become a key source of funding for the developer. While Evergrande tweaked its plan on Monday in an attempt to mitigate the backlash, retail and institutional investors will still face delays unless they accept repayment in the form of Evergrande-developed properties.

…

With more than $300 billion in liabilities, the developer has become one of the most systemically important companies in China. On top of its obligations to WMP investors and bondholders, it owes about $147 billion in trade and other payables to suppliers and received down payments on yet-to-be-completed properties from more than 1.5 million home buyers as of December.

Evergrande's bonds are pricing in a near-certain likelihood of default, with its dollar note due 2022 falling by about 2 cents to 31 cents on Monday.

Source: Yahoo
---
👻 Cryptocurrencies + NFTs
Not a lot of good news here other than Solana. Crypto remains an interesting technology trying to figure out what it's good for. Technology tends to be polarizing, especially new technology. But crypto continues to take the cake – So much love, yet so much hate at the same time.
#7 Solana
Source: Compound Advisors
Solana has come back a bit, but that's still a very impressive run.
#8 U.S.'s Binance Probe Expands to Examine Possible Insider Trading
U.S. investigations into Binance Holdings Ltd. have expanded, with authorities now examining possible insider trading and market manipulation — the latest sign that scrutiny of the world's largest cryptocurrency exchange is intensifying.

As part of the inquiry, U.S. officials have been looking into whether Binance or its staff profited by taking advantage of its customers, said people with knowledge of the matter who asked not to be identified because the probe is confidential. The review involves Commodity Futures Trading Commissioninvestigators, who in recent weeks have been reaching out to potential witnesses, one of the people said.

Though it's not based in any one country, Binance runs a massive trading operation where everyday clients buy and sell digital tokens worth tens of billions of dollars outside the oversight of government watchdogs. That gives the exchange a view into millions of transactions, and U.S. authorities are questioning whether the firm exploited that access, including by trading on customer orders before executing them.

Source: Bloomberg
The crypto world is so fascinating. On one hand, everyone wants a system that is resistant to state intervention, including regulations. On the other hand, it also prevents the state from protecting investors, which allows companies like Binance to (allegedly) take advantage of their own customers.
#9 Treasury to Flag Stablecoin Perils as U.S. Readies Clampdown
Treasury officials have identified what they believe are the most urgent risks posed by Tether and other stablecoins as they ready recommendations for stricter oversight of cryptocurrencies. 

Ensuring investors can reliably move money in and out of tokens is a top concern for officials crafting a policy framework set to be released in the coming weeks, according to people with knowledge of the matter who declined to be named because the work isn't complete. They're also worried that widespread, fire-sale runs on crypto assets could threaten financial stability and that certain stablecoins could scale up dangerously fast, the people said.

Crypto faces a reckoning in Washington as U.S. regulators prepare to clamp down on the rapidly-growing industry — and the Treasury's recommendations could act as a roadmap for the next steps. Officials are also said to be discussing launching a formal review by the Financial Stability Oversight Council into whether stablecoins pose an economic threat, a process that could trigger even more severe oversight.

Source: Bloomberg
#10 Would-Be NFT Millionaires Throw a Dart and Usually Hit a Dud
As co-founder of a website tracking the spectrum of digital collectibles, Gauthier Zuppinger has seen it all. Drawings of toads, apes, abstract blobs, octopuses on heads, fire-breathing devils, and more.

Since last month, as non-fungible tokens supplanted meme stocks and minor coins in speculative imaginations, his website has added 169 collections — more than the prior 12 months combined. For anyone convinced they possess an investing edge to become the industry's Warren Buffett, the chief operating officer of Nonfungible.com has a word of warning.

"Maybe 90% of collections minted today are totally useless and meaningless," Zuppinger said from Paris.

…

One of the most prevalent investing outcomes: Getting stuck with something nobody else wants. In the 90 days through Monday, roughly 1.9 million assets were sold on the largest marketplace OpenSea. But about three quarters never saw another transaction.

For those that do find buyers, the market is dominated by high-profile, high-value works. The most actively traded 3% of collections accounted for 97% of all dollar volume.

The market's more liquid corners have managed to ride the bullish wave, though even then the returns have been far from even. Among those with at least 100 transactions, 42% saw their average dollar price drop, while 39% doubled in value or more.

Source: Bloomberg
I guess a lot of JPEGs are still just JPEGs?
#11 Alibaba continue to increase its presence in the NFT space by launching mooncake NFT on its Taobao marketplace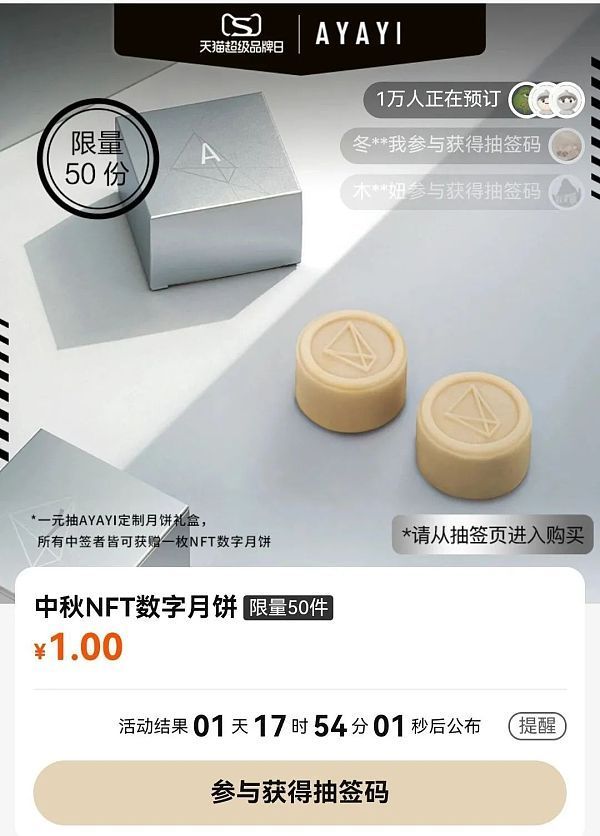 After releasing its first "Dunhuang" style NFT in June, Alibaba continues to increase its presence in the NFT space. The Chinese e-commerce giant has released 50 mooncake NFT on its e-commerce platform Taobao ahead of the Mid-Autumn Festival.

…

Mid-Autumn Festival is a traditional festival widely celebrated in East Asia and Southeast Asia to celebrate the fall harvest. Eating mooncakes is part of the tradition in Chinese culture while appreciating and watching the moon.

Source: Pingwest
Normally, the point is to eat the mooncake. But maybe there is room for cultural evolution where admiring an NFT might be just as good?
#12 Protesters burn Bitcoin ATM as part of demonstration against El Salvador president
Bitcoin detractors and those protesting the policies of El Savador President Nayib Bukele have destroyed a crypto kiosk in the nation's capital city.

News outlet Teleprensa and others posted videos on social media showing a Chivo-supported kiosk in San Salvador burning amid a crowd of journalists and protesters on Wednesday. The Bitcoin (BTC) machine, one of many arranged by the El Salvador government since its acceptance of the cryptocurrency as legal tender in the country, could be seen defaced with anti-BTC logos and a sign saying "democracy is not for sale."

Source: Coin Telegraph
This is interesting! How should this be interpreted?
One interpretation is that this is the 21st Century's Luddites:
The Luddites were a secret oath-based organisation[1] of English textile workers in the 19th century, a radical faction which destroyed textile machinery through protest.

Source: Wikipedia
Or…maybe Salvadorians (many who are very poor) would just prefer the government hand them some money rather than mess around.
---
🎭 Society
#13 Why does it cost so much to build things in America?
And when it comes to mass transit, looking closer at the major projects states have attempted in comparison with their international counterparts is clarifying. The Eno Center for Transportation painted a dismal picture in its recent report: On a per mile basis, America's transit rail projects are some of the most expensive in the world. In New York, the Second Avenue Subway cost $2.6 billion per mile, in San Francisco the Central Subway cost $920 million per mile, in Los Angeles the Purple Line cost $800 million per mile.

In contrast, Copenhagen built a project at just $323 million per mile, and Paris and Madrid did their projects for $160 million and $320 million per mile, respectively. These are massive differences in cost.

…

Time is money, money is power, power is delaying transportation projects

…

SPUR, a California public policy nonprofit, argues that its state's environmental protection law (CEQA) "is often used inappropriately to delay or stop transit and sustainable transportation projects that would have significant benefit to the environment." As city planner and UCLA housing researcher Nolan Gray documented in the Atlantic, CEQA lawsuits have "imperiled infill housing in Sacramento, solar farms in San Diego, and transit in San Francisco. The mere threat of a lawsuit is enough to stop small projects—especially housing—from starting in the first place."

…

One reason the US isn't very good at building transit cheaply is that it doesn't practice.

"If you look at Paris or Seoul or Shanghai, they've been building [transit] pretty much nonstop for decades now. New York, on the other hand, built its subway at a breakneck pace until 1940 and then cooled it," Goldwyn explained.

…

Levy highlighted the failure of American institutions to turn to other parts of the world to learn what they are doing better: "Getting more of these planning managers to say we need to be more German, more Italian, more Swedish, Korean — that's really hard," they said. "The United States is so bad at learning from other countries. If something in America doesn't work [and] in other countries it does work, people don't really course-correct."

Source: Vox
Sounds like another (almost) uniquely American problem. American exceptionalism.
The bit about practice is interesting…knowledge compounds. And America has been de-compounding in terms of doing physical things (infrastructure, manufacturing, low-end industrial) for many decades. This is very hard to solve without vertical integration…maybe this is why the only entities that seem to be able to get large-scale physical projects off the ground are vertically-integrated companies that are quickly morphing into monopolies like Apple, Amazon, and Tesla / SpaceX.
---
💬 Media + Games
#14 How Gaming Will Change Humanity as We Know It
The advent of gaming, especially computer gaming, marks a fundamental break in human affairs. Gaming is profoundly transforming two central aspects of the modern world: culture and regulation. There will be no turning back.

When it comes to culture, the West has been in a dialogue with itself for centuries, indeed millennia, stretching at least as far back as the Bible and the ancient Greeks. Literature, music, cinema and the visual arts provide a common body of knowledge that intellectual elites are expected to be conversant with. Knowing one part of that canon usually helps you master the other parts; Verdi drew upon Shakespeare, who influenced Orson Welles, and so on. Culture has never been about self-contained worlds. Quite the contrary.

Games break that continuity. Typically a game is a closed system that requires a lot of time and attention to achieve mastery, thereby encouraging specialized consumption. It is easy to become a world-class performer in a game without knowing much about the broader culture. By the same token, most of today's cultural experts know very little about gaming, and they get on just fine. The worlds of culture and gaming are largely separate.

…

The self-contained nature of games also means they will be breaking down government regulation. Plenty of trading already takes place in games — involving currencies, markets, prices and contracts. Game creators and players set and enforce the rules, and it is harder for government regulators to play a central role.

The lesson is clear: If you wish to create a new economic institution, put it inside a game. Or how about an app that gamifies share trading? Do you wish to experiment with a new kind of stock exchange or security outside the purview of traditional government regulation? Try the world of gaming, perhaps combined with crypto, and eventually your "game" just might influence events in the real world.

…

Both the culture-weakening and the regulation-weakening features of games follow from their one basic characteristic: They are self-contained worlds. Until now, human institutions and structures have depended on relatively open and overlapping networks of ideas. Gaming is carving up and privatizing those spaces. This shift is the big trend that hardly anyone — outside of gaming and crypto — is noticing.

If the much-heralded "metaverse" ever arrives, gaming will swallow many more institutions, or create countervailing versions of them. Whether or not you belong to the world of gaming, it is coming for your worlds. I hope you are ready.

Source: Bloomberg
Extremely thought-provoking essay from the prolific Tyler Cowen.
I'm firmly in the camp that gaming is eating the world. This is not all good and well, but it is happening because it is the path of least resistance (much like how Darwinian evolution is not good for individuals or even individual species, but is the path of least resistance for the whole living organism ecology as a whole). There are many good things that can come out of it, but everyone needs to be involved soon in order to guide that path of development. Too many mainstream (older) folks continue to write-off the power (and culture) of games at their own (and society's) expense.
#15 TikTok Maker Caps Screen Time for Youths in China
In the latest move to curb screen time for younger Chinese users, ByteDance Ltd., the maker of the hit short-video mobile app TikTok, said that it would restrict access to Douyin, the Chinese version of the app, to 40 minutes a day for users under 14 years old.

Douyin's "youth mode," which follows the imposition of new limits on younger Chinese users' access to online videogames, will restrict under-14s to using the app between 6 a.m. and 10 p.m. The app will be inaccessible to all users in that age group outside of those hours.

Douyin had introduced some of the features beginning in 2018, but on an optional basis. The measures would apply to all users registered with their real names and as being under 14 years old, Douyin said Saturday.

It said that the mandatory measures were designed to protect younger users from harmful content. In that vein, the up-to 40 minutes a day of Douyin for younger users will henceforth serve up edifying content such as science experiments, museum exhibitions and history lessons, the company said.

Source: WSJ
---
🛍 Commerce
#16 Stitch Fix wants to revolutionize e-commerce—by treating it like an old-school department store
Today, the company launches a new platform called Freestyle that creates a customized store for every shopper. It's designed to mimic the discovery process of a traditional department store, where brands and styles are showcased together, rather than a typical e-commerce site, where you have to search for exactly what you want. This new approach to shopping has the potential to grow Stitch Fix's business beyond its subscription model—and also transform the way we shop online.

Online shopping is great if you know exactly what you're looking for, but it's never been very good at helping consumers discover the unexpected. "E-commerce democratized shopping, allowing you to do it from the comfort of your own home," says Elizabeth Spaulding, who became Stitch Fix's CEO in August, taking over from Lake. "But it's inconvenient in so many ways: You're forced to search and scroll for products, and the vast majority of what you're seeing is not relevant to you. We wanted to create a shopping experience based on discovery."

…

I spent several months testing out an early version of Freestyle. You start by taking a short quiz and sharing your aesthetic preferences, sizes, and budget. Then you enter your own personal shop where you're presented with a feed of 24 looks. You don't see the prices or the brands on this screen; instead the pieces are neatly placed next to one another on a clean white background. (You can also shop according to category if you prefer, and those results will be personalized as well.) The products in your feed change constantly, based on Stitch Fix's current inventory, so you're incentivized to buy items you like, as they may not show up in your shop again. "Our ambition is to build you your own personal store," Spaulding says. "It's designed to facilitate discovery, but we're showing you things that we know will fit you and match your own personal style."

Source: Fast Company
What's interesting is that Stitch Fix's new model likely wouldn't even be competitive in Asian e-commerce markets. Asian e-commerce companies have already been highly focused on recommendation feeds that push products tailored to consumer interests.
The only reason this seems innovative (in the West) is because of how poor the discovery experience is, particularly on Amazon.
#17 WhatsApp begins testing a yellow pages-style business directory
WhatsApp is piloting a new business directory in São Paulo, Brazil that lets users find local shops and services with a presence on the app, the service's head Will Cathcart has announced. Screenshots show how WhatsApp will show businesses sorted by categories like "grocery store" and "restaurant," before letting users chat directly with them. Reuters reports that the test will include thousands of businesses in the city.

Source: The Verge
#18 Shopify Overtakes Amazon in Web Traffic
Based on Similarweb data.
Impressive!
---
👨‍💻 Technology
#19 Cloudflare Workers: the Fast Serverless Platform
But if today is the day you decide to make your idea come to life, building your project on the Cloudflare edge, and deploying it directly to the tubes of the Internet is the best way to guarantee your application will always be fast, for every user, regardless of their location.

It's been a few years since we talked about how Cloudflare Workers compares to other serverless platforms when it comes to performance, so we decided it was time for an update. While most of our work on the Workers platform over the past few years has gone into making the platform more powerful: introducing new features, APIs, storage, debugging and observability tools, performance has not been neglected.

Today, Workers is 30% faster than it was three years ago at P90. And it is 210% faster than Lambda@Edge, and 298% faster than Lambda.

…

In the case of Workers, getting the best performance globally requires no additional effort on the developers' part. Developers do not need to do any additional load balancing, or configuration of regions. Every deployment is instantly live on Cloudflare's extensive edge network.

Even if you're not seeking to address a global audience, and your customer base is conveniently located on the East coast of the United States, Workers is able to guarantee the fastest response on all requests.

Source: Cloudflare
While others are focused on making the datacenter the new "computer", Cloudflare is busy turning the whole network into the new "computer".
You won't use Cloudflare to do to compute-intensive AI / ML training, but it's quickly becoming the best option for consumer and general enterprise application deployment.
---
💉🔬 Health + Science
#20 A New Company With a Wild Mission: Bring Back the Woolly Mammoth
A team of scientists and entrepreneurs announced on Monday that they have started a new company to genetically resurrect the woolly mammoth.

The company, named Colossal, aims to place thousands of these magnificent beasts back on the Siberian tundra, thousands of years after they went extinct.

…

A former researcher in Dr. Church's lab, Eriona Hysolli, will oversee the new company's efforts to edit elephant DNA, adding genes for mammoth traits like dense hair and thick fat for withstanding cold. The researchers hope to produce embryos of these mammoth-like elephants in a few years, and ultimately produce entire populations of the animals.

…

Beyond scientific curiosity, he argued, revived woolly mammoths could help the environment. Today, the tundra of Siberia and North America where the animals once grazed is rapidly warming and releasing carbon dioxide. "Mammoths are hypothetically a solution to this," Dr. Church argued in his talk.

Today the tundra is dominated by moss. But when woolly mammoths were around, it was largely grassland. Some researchers have argued that woolly mammoths were ecosystem engineers, maintaining the grasslands by breaking up moss, knocking down trees and providing fertilizer with their droppings.

Source: NYT
Hmmm…I vaguely remember a couple of movies about something like this. And it didn't go according to plan.
Jokes aside, we are indeed on the verge of technological marvels that would have only seemed like science fiction a few years ago.
Dr. Church is also one of the people involved intimately with the history and development of CRISPR.
---
🤔 Hmm… / 😮 Wow
#21 Hyper – Reality
Wow. Yikes?
#22 From pirates to ransomware: the secret economics of extortion
In 74BC a band of pirates made a terrible mistake when they captured a ship off the coast of Asia Minor, now Turkey. They kidnapped one of the passengers, a young Roman citizen named Julius Caesar, along with his entourage, and demanded a ransom of 20 talents (about 650kg in silver) for his release. Caesar, in his mid-20s and on his way to study rhetoric in Rhodes, burst out laughing. Didn't they know who he was? He was worth 50 talents, not a mere 20! Unsurprisingly the pirates agreed to this higher ransom, and released some of Caesar's associates to raise the money.

…

Caesar's captors had a poor grasp of the economics of extortion. Their hostage was more valuable than they bargained for: though young, Caesar was already a distinguished soldier, lawyer and orator. His aunt had been married to Gaius Marius, a famous general and seven times consul of Rome. His father had been governor of Asia Minor (which may explain why the people of Miletus were so willing to help). The pirates underestimated the risk they were taking by kidnapping him – with fatal consequences.

Source: Economist
This is a really fun article. Fascinating how ransoms have evolved over time.
#23 The Diapers.com Guy Wants to Build a Utopian Megalopolis
In an American economy of winners and losers, it's clear where Marc Lore falls. He founded two e-commerce startups and sold them for $550 million and $3.3 billion before spending the last five years running Walmart Inc.'s online shopping division. Since announcing his departure from Walmart in January, Lore is on a victory lap that seems to include doing everything short of climbing into a rocket and shooting himself into space. Yet somehow, even as he's bought a stake in a basketball team, begun learning the basics of his new Steinway grand piano, and planned a reality show (it'll be like Shark Tank, but with bigger checks), Lore has found time to ponder what he sees as the biggest challenge facing the U.S.—the country's massive wealth gap. "Most civilizations in history at some point fall, right?" he says. "This is going to bring down America."

…

Lore is particularly attracted to the strain of Georgism that involves creating a trust that holds the land in a community and uses the income it generates to fund social services. From that idea, he's come up with the modest proposal to start a private foundation, buy 200,000 acres or so of land, probably somewhere in the American West, and build a 5 million-person city from the ground up—a Georgist utopia that will serve as a demonstration project for a new, fairer phase of capitalism.

"If you went into the desert where the land was worth nothing, or very little, and you created a foundation that owned the land, and people moved there and tax dollars built infrastructure and we built one of the greatest cities in the world, the foundation could be worth a trillion dollars," Lore says. "And if the foundation's mission was to take the appreciation of the land and give it back to the citizens in the form of medicine, education, affordable housing, social services: Wow, that's it!"

Source: Bloomberg