Three years ago, Capital Flywheels wrote a post titled "Why Amazon is so Hard to Compete Against".
Specifically, I argued that Amazon's greatest advantage is not the commonly cited ones of scale or cash flow or brilliant management…
(those things make it even harder to compete against Amazon)…
…but rather Amazon's greatest advantage is that competitors never actually compete against Amazon at all but instead compete against Amazon's past.
All of these advantages played a part…and ultimately Amazon's differentiated strategy and perspective on retail helped them pull away, but I believe that one of the biggest reasons why competitors failed and continue to fail against Amazon is because they are never actually competing against Amazon but rather against Amazon's past.

At any given moment, the observable parts of any company is a summation of decisions – strategic and financial – made some time ago. For most companies, the gap between those decisions and what you see is probably not large because many companies are unfortunately run to a fairly short term time horizon. However, for a company like Amazon, the gap is massive, especially since Jeff Bezos prides himself on thinking 5-10 years out.

…

The Amazon that exists today, the Amazon for which today's strategic decisions affect, is the true juggernaut that competitors need to beat, but they won't even know what they are truly up against until it becomes obvious a few years from now.

I think this is the key reason why Amazon is such a formidable competitor, and it is all enabled by years of advance planning. Competitors have a hard time catching up because by the time they know what they are up against, they are already years behind. Even formidable competitors like Google and Microsoft have been blind-sided by AWS, so it's not just retail where Amazon successfully employs such a strategy.

In order for any company to successfully compete against Amazon would likely require recognizing this asymmetric form of competition and taking a leap of faith to position competitively against the Amazon of the future as opposed to the Amazon of the past. What does the Amazon 5 years from now look like? That's the true measure of competition.

Source: Why Amazon is so Hard to Compete Against
When I wrote that post three years ago I was specifically focused on Amazon, but the last three years have convinced me that the learnings can be generalized to a much broader swath of businesses.
This realization is not a result of just recognizing that a lot more of these types of businesses exist…this realization is a result of how the world is changing and how that change is accelerating.
Today, it is becoming increasingly difficult to be successful without employing such a strategy – meaning a strategy that is centered on long term bets that are invisible to competitors but have the potential to redraw the competitive landscape definitively once carried out.
Businesses that employ such a strategy are killing businesses that do not.
As a result, through natural selection and business Darwinism, increasingly businesses that do survive and exist are those that do employ such a strategy.
One company that has carried out such a strategy even longer than Amazon has is Apple.
Competitors have a hard time competing against Apple because they are never competing against Apple. They are always competing against Apple's past.
For example, Apple's recent M1 chip has caused quite a stir…Apple's first entry into the computer chip industry, their very first visible try, is not only competitive with the leading offerings of Intel and AMD, but obliterates them along a number of dimensions (of which the most important is performance per watt).
We can all easily imagine the frantic, difficult conversations that are going on behind closed doors at Intel and AMD at the moment.
If this is Apple's first try at it, the long road ahead will be challenging.
But that's the thing…this isn't Apple's first try. It's Apple's first visible try.
In fact, the M1 has been a story 13 years in the making. The investments and planning needed to enable this began in 2008 when Apple bought P.A. Semi.
2008 was just one year after the launch of the iPhone, and just two years after the Mac's transition to Intel / x86 (from PowerPC).
Let that sink in.
Apple didn't even transition the Mac to Intel until 2006 and only launched the iPhone in 2007. Yet by 2008, Apple was already laying down plans that would ensure that the iPhone would have the most capable processors 5 years in the future…and the Mac would have the most capable processors 10-15 years in the future.
Intel and AMD may think they are competing against Apple, but they are merely competing against Apple's past. The scope of Apple's current plans and current ambition won't even be visible to them until 5-10 years from now. By which time it may be difficult to recover from if they do not accurately assess the current situation.
Another tangible example is Apple's AirPods.
Apple's AirPods are extremely popular. And despite being on the market for almost half a decade now (yes, they were launched more than 4 years ago…time flies), competitors still haven't caught up.
Apple recently released a higher-end version called AirPods Max.
Turns out…these were designed 4 years ago!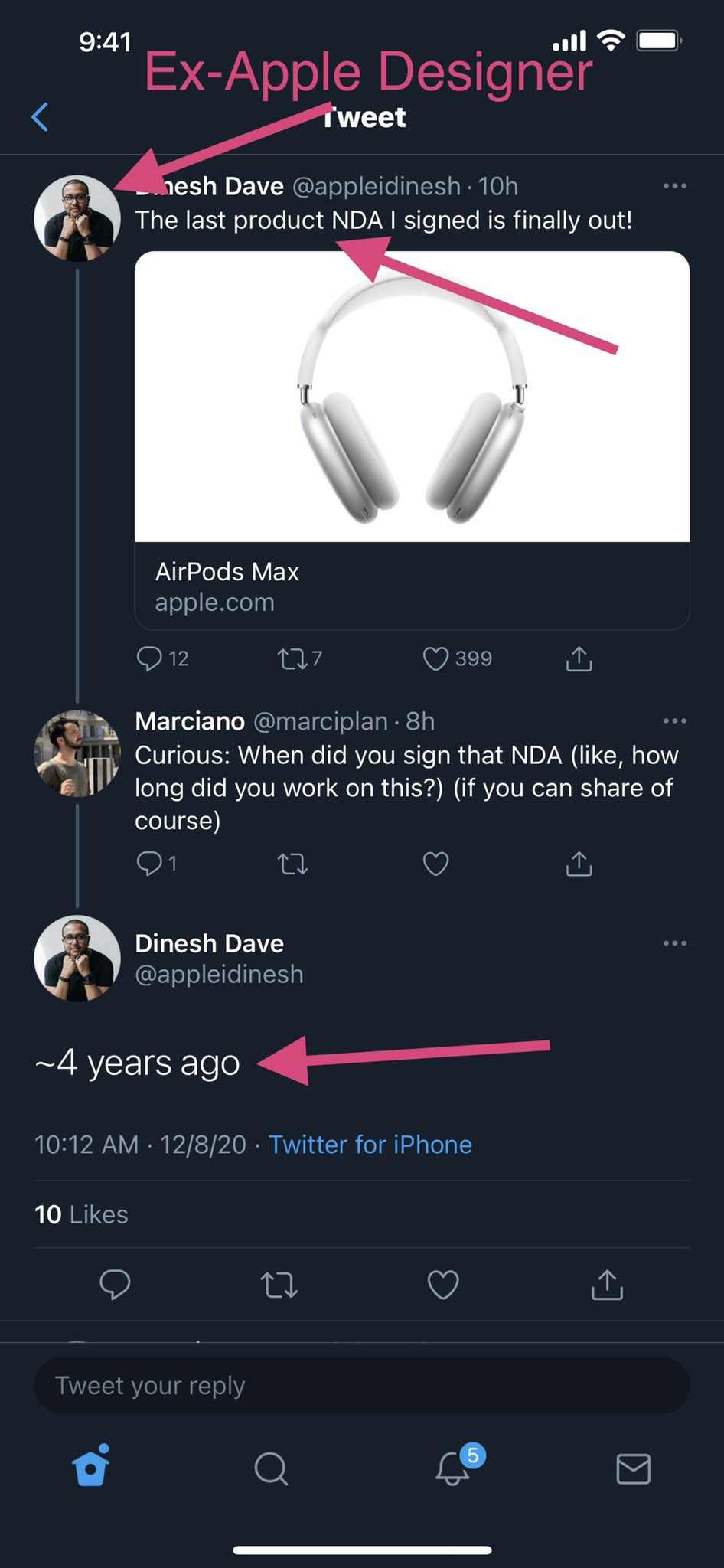 Source: Twitter
One can only imagine when the original AirPods launched 4 years ago were designed.
Competitors are still trying to catch up to what is visible to them. But everything that is visible to them is merely Apple's past…4 years in the past to be precise for this specific product line.
What makes such a strategy so asymmetric is that one side can act dynamically while the other cannot. Competitors that do not employ such a strategy are competing against the past. While the companies that do employ such a strategy can dynamically adjust their strategy and investments to take into account any unexpected developments and evolutions of competitors' strategies.
It is therefore asymmetric because competitors that compete against the past are flying blind when it comes to the future, whereas companies that employ such a strategy based on long-term invisible planning can easily neutralize any threats since those threats are always visible to them.
Amazon and Apple are the two that have clearly employed this strategy for as long as they have existed.
However, natural Darwinism of markets have increasingly meant that companies that survive and thrive today also increasingly employ such a strategy.
For example, AMD went nearly bankrupt in 2015 after years of unsuccessfully competing against Intel.
However, AMD's CEO Lisa Su made a highly strategic bet to go fabless (outsource manufacturing to TSMC) in 2015. This was a bet that looked potentially insane at the time. But now in 2021, it's obvious the real loser is Intel. Intel now lags on process and potentially needs to outsource to TSMC as well in order to stay at the leading edge. Intel is now competing against AMD's past and decisions that were made 5 years ago. And these decisions appear to have sealed Intel's fate since Intel starting to think about outsourcing now means they will not be able to actually outsource until 2-3 years from now. And by then, Intel is almost guaranteed to be fighting a steeper slope than it is now.
AMD's investors have benefitted immensely, of course, with AMD shares increasing 46x in the last 5 years:
Source: Google Finance
AMD is not alone.
Many of the most successful businesses today are successful because they have employed such a strategy within the last 10 years.
For example, Nvidia. As dominant as Nvidia is now, one can only imagine what their plans are as they increasingly move up the software stack married with their potential control of ARM.
For example, Shopify. Five years ago, Shopify was only viewed as a niche website builder…and, in many conversations, likely even subpar to general website builders like Wix because Shopify only serves e-commerce websites (e.g. a narrower TAM…). Not only is that wrong, it's very wrong. Turns out the visible parts of Shopify were nowhere representative of what Shopify was actually creating and building towards. Competing website builders were merely competing with Shopify's past, a past that was designed and planned between 2005-2010. Today, people rightfully see that Shopify is much more than that (and competitors are trying to replicate what they see today), but how many can see what Shopify's current vision for 5 years from now actually is? That's what competitors will need to compete against.
For example, Stripe. Stripe got traction by being the easiest way for any website to implement payments via a simple API call. If that's all Stripe was ever destined to be, then it would never be where it is today. But that is the Stripe that was visible 5-8 years ago. Today Stripe is rightfully viewed as much more, but even then, who can actually see what Stripe is building today for 5 years in the future? That's what competitors will need to compete against.
Well isn't this just how long-term planning has always worked for the most successful businesses?
Yes and no.
Companies that have invested for the long-term have almost always done better than competitors.
But what makes today different is that strategies are nearly invisible in a way that has never been possible in the past. In the past, if Walmart wanted to try something new, you would see it being tested somewhere even if that somewhere was remote or not obvious.
Today, the nature of software and algorithms means no one has full visibility into the same visible internet. For example, if Facebook were planning on testing a new feature, they would likely never A/B test it on an account of a known employee of a competitor…same goes for Snapchat or TikTok. The nature of software allows you to screen and exclude people from potentially ever seeing the puzzle pieces of your strategy.
Marry this with the dramatically faster speed in which software can scale vs bits-and-bolts physical world means that missing a competitors' invisible strategy will likely lead to gaps that are hard to recover from.
However, while it is increasingly possible to do this, there are many companies that do not use it to their advantage. For example, Google's Waymo has the potential to drastically disrupt transportation, yet, their capabilities and strategy are clearly visible to anyone and everyone. Perhaps this is not a problem because the traditional automakers are unlikely to have the ability to close the technical / technological gap, but it certainly exposes Waymo to invisible risks if capable competitors like Apple or Amazon are adjusting their strategies assuming they view Waymo as a strategic risk.
As the world continues to evolve this way, the companies that survive and thrive 10-20 years from now will all likely be winners of this Darwinian contest.
Some will win through sheer luck of having bet on the right trends years in advanced. Others will win through shrewd strategy and early head starts.
But the losers will not only lose growth. The losers will cease to exist.
This is fundamentally different from the nature of competition that has governed the physical world for all of human history. Because in the physical world, even if you are behind the times, there is always a small captive audience that you can cater to based on your own geographic presence. For example, mom and pop grocery stores did not cease to exist even as professional chains and Walmart successfully utilized technology to create cheaper goods and shelves with larger variety. Mom and pops always could rely on the small local captive audience it had in the few blocks around its physical location.
There is no such benefit online.
Because the internet is a place where scale is infinite yet infinitesimal as well.
And finding and understanding these types of businesses are not only important for generating returns, but also important in order to avoid disruption.
At the end of the day, the businesses that are successful in forcing competitors to compete against their past ultimately grants them the luxury to singularly focus on competing against the future on their own terms.