Pretty quiet few days over the holidays as you would expect…less to talk about. But it should pick up, again, next week.
---
🗺 Geopolitics
The world is changing, and geopolitics is one of the most consequential areas where this is playing out.
There is no "navy" on the internet. And all the countries of the world are now "closer" than ever before as we all find ourselves trying to co-exist in just a few shared social media / internet ecosystem gardens.
Foreign Policy recently published a fascinating article into how geopolitical structures, cybersecurity, and the intelligence arena are all colliding:
#1 China Used Stolen Data to Expose CIA Operatives in Africa and Europe
Around 2013, U.S. intelligence began noticing an alarming pattern: Undercover CIA personnel, flying into countries in Africa and Europe for sensitive work, were being rapidly and successfully identified by Chinese intelligence, according to three former U.S. officials. The surveillance by Chinese operatives began in some cases as soon as the CIA officers had cleared passport control. Sometimes, the surveillance was so overt that U.S. intelligence officials speculated that the Chinese wanted the U.S. side to know they had identified the CIA operatives, disrupting their missions; other times, however, it was much more subtle and only detected through U.S. spy agencies' own sophisticated technical countersurveillance capabilities.

The CIA had been taking advantage of China's own growing presence overseas to meet or recruit sources, according to one of these former officials. "We can't get to them in Beijing, but can in Djibouti. Heat map Belt and Road"—China's trillion-dollar infrastructure and influence initiative—"and you'd see our activity happening. It's where the targets are." The CIA recruits "Russians and Chinese hard in Africa," said a former agency official. "And they know that." China's new aggressive moves to track U.S. operatives were likely a response to these U.S. efforts.
The CIA has a very hard time recruiting assets in China (and Russia) as you can imagine…so the trick was always to recruit them when they are traveling abroad.
But the era of Big Data (and cyberwarfare) has now made it much more challenging. It isn't so much that others are doing things that the CIA won't do or isn't doing (no one is clean…and the CIA is as dirty if not more), but it's that others have finally caught up defensively and offensively.
The article also includes this fascinating tidbit about how the CIA exploited China's unique governmental and cultural structure:
Within the CIA, China's seething, retaliatory response wasn't entirely surprising, said a former senior agency official. "We often had [a] conversation internally, on how U.S. policymakers would react to the degree of penetration CIA had of China"—that is, how angry U.S. officials would have been if they discovered, as the Chinese did, that a global adversary had so thoroughly infiltrated their ranks.

The anger in Beijing wasn't just because of the penetration by the CIA but because of what it exposed about the degree of corruption in China. When the CIA recruits an asset, the further this asset rises within a county's power structure, the better. During the Cold War it had been hard to guarantee the rise of the CIA's Soviet agents; the very factors that made them vulnerable to recruitment—greed, ideology, blackmailable habits, and ego—often impeded their career prospects. And there was only so much that money could buy in the Soviet Union, especially with no sign of where it had come from.

But in the newly rich China of the 2000s, dirty money was flowing freely. The average income remained under 2,000 yuan a month (approximately $240 at contemporary exchange rates), but officials' informal earnings vastly exceeded their formal salaries. An official who wasn't participating in corruption was deemed a fool or a risk by his colleagues. Cash could buy anything, including careers, and the CIA had plenty of it.

Source: Foreign Policy
Yes…the US is complaining a lot about how others like Russia and China are not playing fair by trying to hack our elections, in effect exploiting weaknesses in our own governing structures…but the fascinating part about this Foreign Policy tidbit is that the US has been playing asymmetric games for a long time, too.
The CIA recognized for years that the Chinese government structure was easily exploitable because of endemic corruption. The fastest way to rise through the ranks is to bribe people. And the CIA exploited that to the bone to get their assets up the ranks.
The future of warfare is asymmetric. And it's been going on for a while.
#2 The US has suffered a massive cyberbreach. It's hard to overstate how bad it is
Recovering from this attack isn't easy. Because any SVR hackers would establish persistent access, the only way to ensure that your network isn't compromised is to burn it to the ground and rebuild it, similar to reinstalling your computer's operating system to recover from a bad hack. This is how a lot of sysadmins are going to spend their Christmas holiday, and even then they can't be sure. There are many ways to establish persistent access that survive rebuilding individual computers and networks. We know, for example, of an NSA exploit that remains on a hard drive even after it is reformatted. Code for that exploit was part of the Equation Group tools that the Shadow Brokers – again believed to be Russia – stole from the NSA and published in 2016. The SVR probably has the same kinds of tools.

Source: The Guardian
The Solarwinds hack continues to sound worse and worse. Again, not because others are doing things we aren't doing, but because they are finally catching up offensively and defensively.
The only reason it might seem kind of unfair is because the CIA hacking is purely for geopolitical intelligence, whereas other countries are getting some economic and technological benefits out of their espionage in a way that the US cannot.
Anyhow…I'm just an ordinary human on Planet Earth. I personally cannot understand why humans have a desire for empire, and why we can't all just get along.
---
🤑 Economics
There's a lot of talk about Fed balance sheet expansion for good reasons, but these charts are a good reminder of what reality is vs what people say / believe:
#3 Comparison of Central Bank Balance Sheets
In absolute terms: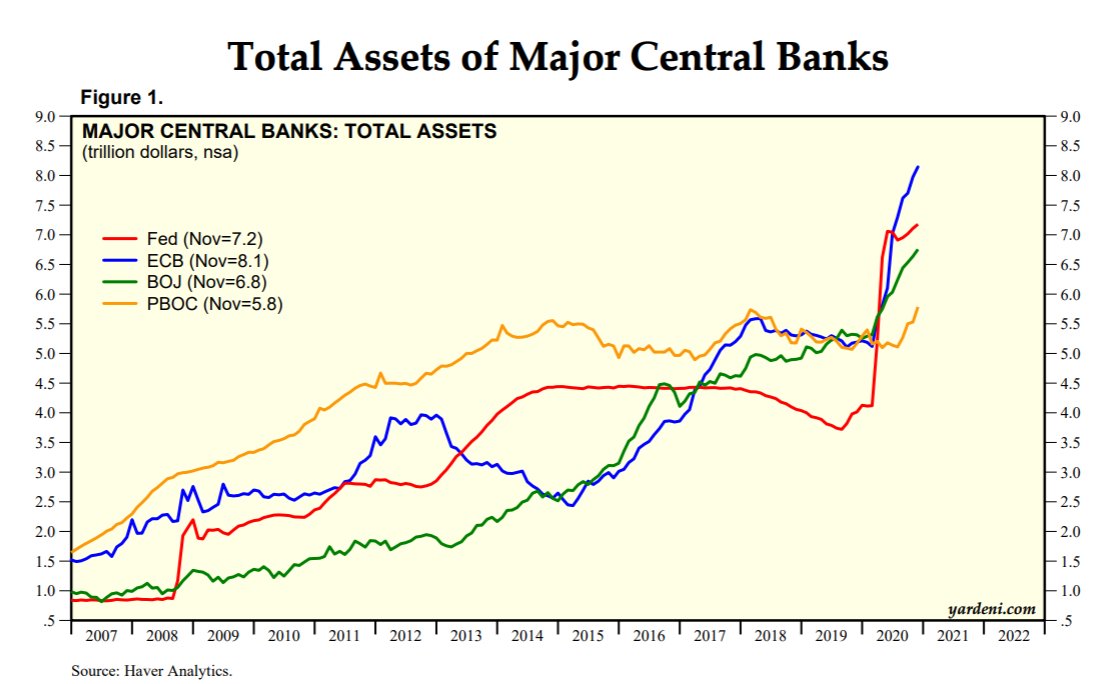 Yes, Fed balance sheet has gone up A LOT, but it was actually the most sensible one before COVID-19, despite what everyone says…
The US has the largest economy by far. The Fed balance sheet should be bigger than others. Except the European Central Bank (ECB) has a bigger balance sheet than the Fed.
And it's not even close if you look at it in relative terms as a % of GDP: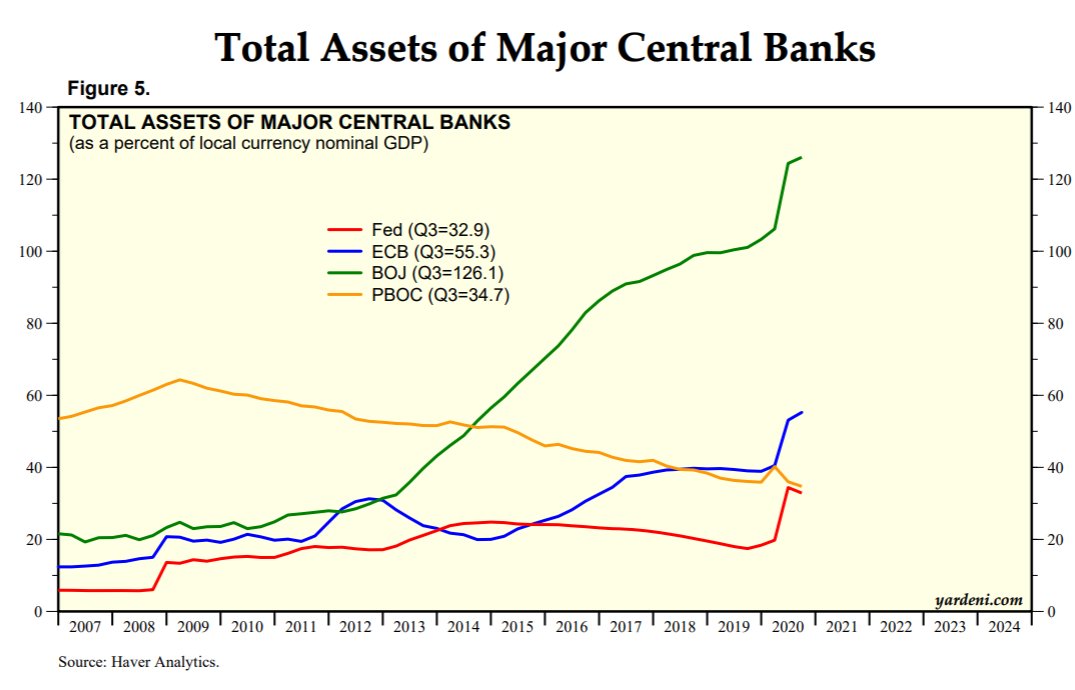 Source: Haver Analytics via Twitter / @SantiagoAuFund
Not even close. On relative terms, it's clear the Fed is not close to being the worse offender. The balance sheet is the smallest as a % of the economy vs all major peers.
It always strikes me as funny how many professional investors recently have started calling China's PBOC monetary policy as orthodox. (Especially, when you consider that this chart only shows PBOC assets and does not even include state banks or local government financing vehicles, which have become major policy tools over the last decade).
The truth is that the Fed's balance sheet was too tight for too long. The US was too afraid to loosen to counteract the damage of the 2008 Financial Crisis…and we are still suffering from the after effects of tight policy. Yes, interest rates have been 0% for a decade, which suggests that monetary policy is VERY LOOSE, but banks have not been lending over the last decade. Those 0% rates have not filtered through into the real economy at all…it's the monetary policy version of "If a tree falls in a forest and no one is around to see it, did it happen?" The only people that have benefited from 0% interest rates are wealthy asset owners, which is a very slim portion of the population.
---
🎭 Society
#4 The Greatest Privilege We Never Talk About: Beauty
Courtesy of David Perell:
The benefits of being attractive are exorbitant. Beauty might be the single greatest physical advantage you can have in life*. And yet compared to other other privileges that may arise from race, gender, or sexuality, we don't talk much about it.

…

This bias for beauty can cause real harm. In a meta analysis of the role of attractiveness in criminal sentencing, it was found that unattractive people received 120–305 percent longer sentences than attractive people. As a comparison, another study found that black people received 6–20 percent longer sentences than white people. Yes, in criminal sentencing, looks were over 10x more important than race.
Source: Medium / Saeid Fard
Wow. Apparently being unattractive is worse than being dark-skinned when it comes to criminal sentencing.
I always knew that beautiful people have a very large advantage in life, but the benefit is even larger than I thought.
Also fascinating if you think about the implications of this in white collar crime. Maybe it isn't so much that white collar crime is systematically overlooked, but that there's some weird correlation between how attractive a person is and the type of crime they can pursue.
For example…Elizabeth Holmes swindles >$10 billion from investors and…nothing happens to her. Yet, Martin Shkreli goes to jail for a few years. For background, their crimes were essentially similar – They both swindled a lot of money from investors.
Informal poll: Did their attractiveness affect the decision?
Source: Vanity Fair
Source: The Atlantic
Speaking of Martin Shkreli, the journalist that covered his case at Bloomberg is madly in love with him. Very fascinating story actually…well worth a read just for the cultural aspects of it. I also find the psychology of it all fascinating.
---
💬 Media
#5 Virgil Abloh on the future of fashion and gaming: "My brain is turned on"
Growing up in the 80s, playing Nintendo was a formative experience for Virgil Abloh. Now, fashion has become his "real-world game", he says, but video games have made a fashionable, somewhat nostalgic comeback. The designer of Off-White and artistic director of Louis Vuitton men's, Abloh says that he is now taking a closer look at gaming culture and what it can mean for fashion, particularly as the industry explores digital ways to connect with customers.

…

In addition to creating physical designs that speak to the aesthetics of the culture, designers can create and sell digital goods within games, where the appearance of players is perhaps as influential on one's social standing as it is in the physical world.

Source: Vogue Business
Gaming is becoming very central to our culture. Fashion is one of the keystones of offline culture…and with the blending of off-line and online, fashion and gaming is now merging as well.
Does fashion accelerate because now it is so easy to experiment without wasting any physical materials? (Since digital clothes is just digital bits.)
How does the value chain evolve when the gateway to fashion is no longer glitzy Fashion Week(s) in New York, Milan, Paris, Shanghai…but a game publisher that controls access?
Will fashion remain in the hands of a few high priests and priestesses of fashion or will it democratize because the tools for creating fashion can be imminently accessible via games and game engines?
---
💰 Fintech
#6 The Code That Controls Your Money
Thomas retired from the bank in 2007 at about 60, and when he left, the bank was still relying on the system, which by then was 20 years old and written when Thomas had a lot more hair and when Phil Collins's "Groovy Kind of Love" was a chart-topping hit. These days, the code is over three decades old. It's still crunching millions of records a day. Indeed, he believes most of the code he and his peers wrote back in the day is still running because the bank can't function without it.

…

Consider: Over 80% of in-person transactions at U.S. financial institutions use COBOL. Fully 95% of the time you swipe your bank card, there's COBOL running somewhere in the background. The Bank of New York Mellon in 2012 found it had 112,500 individual COBOL programs, constituting almost 350 million lines; that is probably typical for most big financial institutions. When your boss hands you your paycheck, odds are it was calculated using COBOL. If you invest, your stock trades run on it too. So does health care: Insurance companies in the U.S. use "adjudication engines'"— software that figures out what a doctor or drug company will get paid for a service — which were written in COBOL. Wonder why, when you're shopping at a retailer you will see a clerk typing into an old-style terminal, with green text on a black background? It's because the inventory system is using COBOL. Or why you see airline booking agents use that same black screen with green type to change your flight? "Oh, that's COBOL — that's definitely COBOL," laughs Craig Bailey, a senior engineer at Faircom, a firm that makes software to help firms manage those old systems.

Source: Wealth Simple Magazine
This is probably one of the most fascinating articles I've read in finance / fintech this year. You cannot begin to understand fintech unless you begin to understand why banks have such a hard time innovating (and why fintechs that can massage away all these problems have so much power).
---
🛍 Commerce
#7 US Social Commerce Platform Maturity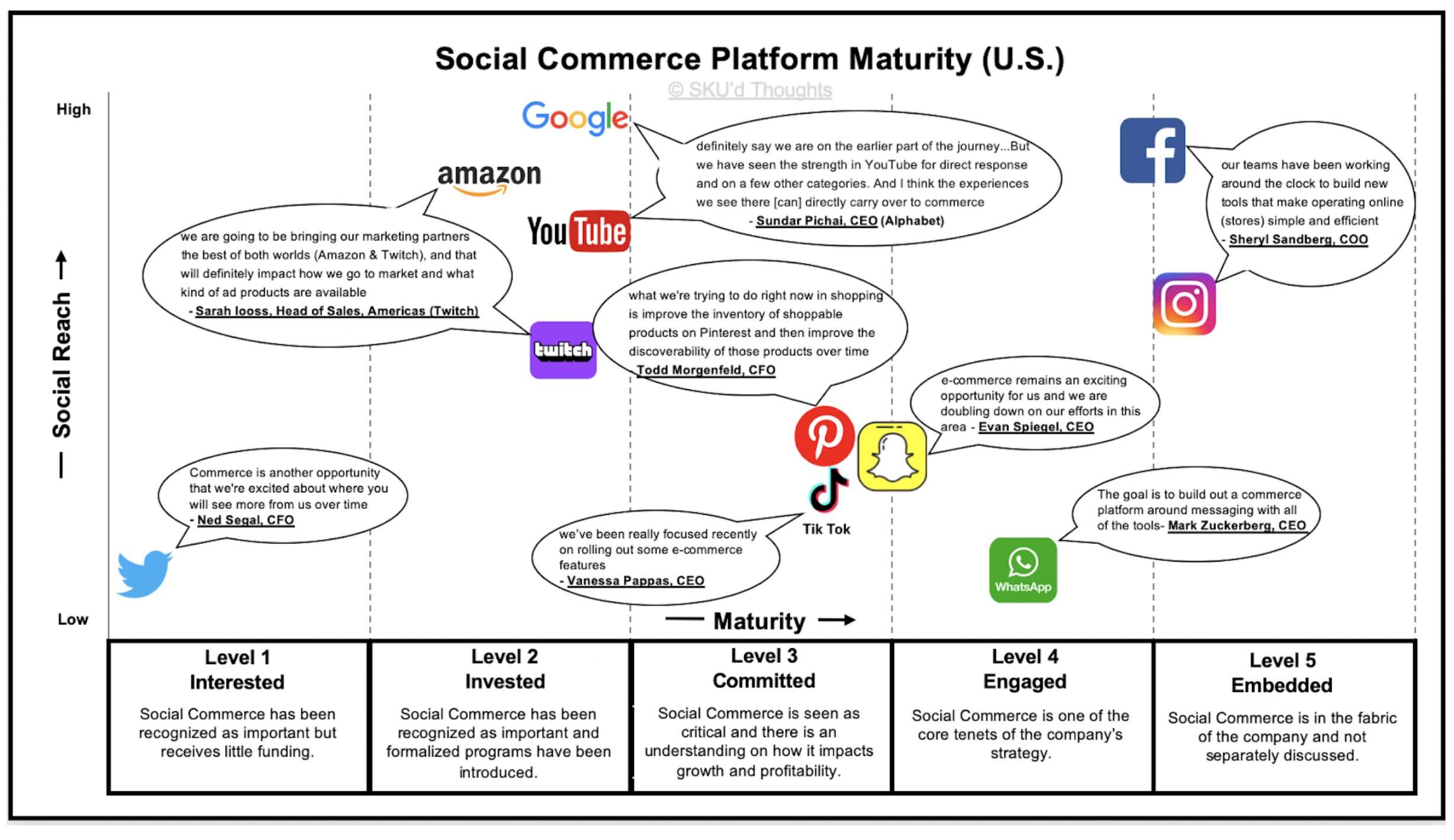 Source: Twitter / @TheKofiAmpadu
Facebook's ecommerce shift continues to receive less attention than it deserves. It feels very much like Apple around 2013/2014…where the business was already shifting (away from hardware and into services + much less dependence on the iPhone), but people did not see or understand it until much later. I think we're around "2013" for Facebook. Give it another 2 years, and the ecommerce story will be the only thing people talk about.
---
This next article is primarily about an influencer, MrBeast, but I think the most interesting aspects of the article are actually around the changing nature of work and our economy.
Digitization of the economy over the last 20 years has had a large negative impact on many types of jobs, but we are only beginning to see the emergence of work that is native to the digital economy beyond coding.
#8 The North Carolina Kid Who Cracked YouTube's Secret Code
Donaldson now generates tens of millions of dollars in advertising sales from his social media feeds, which include his main channel, a gaming channel and pages on other social media sites. He invests almost every dollar back into his business. In recent years, his average cost of making a single video has climbed to $300,000 from $10,000. "Money is a vehicle to do bigger videos and make better content," he said.
Influencers can make a lot of money! Yes, influencers have been around for a while, but doing it successfully via Youtube is not and has not been easy. It takes a lot of money and effort to do Youtube videos successfully.
Instagram has materially lowered the bar. There are lot more Instagram influencers than Youtube influencers. Because it shifted the game from videos (which are hard to do) to images (much easier to do, and lots of built in software / filters to help).
And TikTok has lowered the bar even further. Now you can make viral videos much more easily than on Youtube.
This is digital-native work.
All the (good) offline sales people that no longer have jobs have skills that could make them great influencers.
And also this:
On Dec. 19, Donaldson announced a new venture called "Beast Burger." He is partnering with more than 300 restaurants and kitchens across the country that will make burgers based on his instructions — a model known as ghost kitchens.

Over the weekend, the MrBeast Burger app soared in popularity. As of the morning of Dec. 21, it was the second most popular free app in the entire iOS store. Donaldson and Duchscher plan to double their footprint by the end of next year. Customers can order on delivery apps like Postmates or Grubhub.

Source: Bloomberg
Yes, yes, everything is getting disrupted. But how are people not wildly optimistic about the benefits of having a digitized off-line world that can now be as agile as the online software world?
MrBeast literally launched a burger chain with 300 stores over a single weekend.
The economy is shifting in a way where we can finally massively create in the offline world as well.
The last 20 years was about digitizing the offline world. And the next 20 years is about the online world transforming the offline world.
---
👨‍💻 Technology
Part of enabling the transformation of the offline world is developing the relevant data infrastructure. Maps is a very important part of that. Google essentially had a stranglehold on maps data, but it's starting to lose its grip.
#9 OpenStreetMap is Having a Moment
The open secret Jennings filled me in on is that OpenStreetMap (OSM) is now at the center of an unholy alliance of the world's largest and wealthiest technology companies. The most valuable companies in the world are treating OSM as critical infrastructure for some of the most-used software ever written.

The four companies in the inner circle— Facebook, Apple, Amazon, and Microsoft— have a combined market capitalization of over six trillion dollars.¹ In almost every other setting, they are mortal enemies fighting expensive digital wars of attrition. Yet they now find themselves eagerly investing in and collaborating on OSM at an unprecedented scale (more on the scale later).

…

The concept is simple: undermine your competitors' intellectual property advantage by collaborating with aligned entities to cheapen it with a free and openly licensed alternative.

I would wager that corporate participation in OSM is less about directly monetizing souped-up versions of OSM data provided as modern web services and more about desperately avoiding the existential conflict of having to pay Google for the privilege of accessing their proprietary map data.⁵

Source: Joe Morrison
It didn't have to be this way. Google was the sole maps data provider for Apple until 2013.
The mainstream public mostly believes that Apple moved off Google Maps data just because Apple was having a power trip and wanted to subject their users to bad data that sent them into lakes or life-threatening situations. But, insiders have claimed that Google refused to license turn-by-turn navigation for iOS.
And now there is an industry-wide alliance to break Google's grip on maps data.
And given how well the open source strategy has worked for Android, the unified alliance on OpenStreetMaps is likely to eclipse what Google can do alone.
And then we have this:
#10 Amazon Location – Add Maps and Location Awareness to Your Applications
Today we are making Amazon Location available in preview form and you can start using it today. Priced at a fraction of common alternatives, Amazon Location Service gives you access to maps and location-based services from multiple providers on an economical, pay-as-you-go basis.

Source: Amazon
As it becomes easier and easier to make apps that utilize maps data, the maps data ecosystem outside of Google will continue to accelerate.