Here's the articles that I found interesting recently.
While the world is increasingly converging on the need to go digital because of the pandemic, it is also becoming increasingly clear that the digital leaders are diverging in how they think about the future.
This is in contrast to the last 5-10 years where mobile was the key and singular focus amongst the digital leaders. And mostly about controlling the apps that you care about.
Now, strategies seem to be diverging. Everyone already has their favorite apps and it doesn't change much. You may add 1 or 2 major apps that you care about per year while cycling through / trying a handful of news app but end up tossing / forgetting about.
Mobile is still core, but the branches that radiate out from this core are pointing in different directions.
There are those like Amazon and Alibaba that view control of physical-world infrastructure (like stores and trucks) as key.
There are those like Facebook / Oculus, Snap, Epic / Fortnite, Roblox, etc that view controlling the digital metaverse as key (quite literally the world we interact and entertain ourselves in).
There are those like Apple, Nvidia, Cloudflare, Amazon AWS / Microsoft Azure / Google Cloud, etc that view controlling digital-world infrastructure and gateways (like datacenters and hardware / devices) as key.
And then there are those that increasingly realize that providing digital-world infrastructure services (e.g. digital picks-and-shovels in the form of APIs) to other businesses is a powerful business model in its own right. This is fundamentally different to the prior breeds of software-as-a-service companies where the end users are people. The new breeds of API-as-a-service companies have end users as companies that roll these APIs in to services of their own where their end users are people. This includes companies like Stripe (fintech APIs) and Twilio (communication APIs).
All of these parts of the market already existed, but many companies played in some or all of these buckets at the same time. But it now seems the digital world is large enough for specialization and divergence to increasingly come to the fore.
---
🛍 Commerce
#1 WhatsApp Adds Shopping Carts
The instant messaging platform, where business accounts already process messages from more than 175 million people, said it is adding carts to WhatsApp around the world ahead of the holiday shopping season.

Carts are aimed at making it easier for consumers to buy multiple items from a business, and for merchants to keep better track of order inquiries and manage requests. WhatsApp said it is adding the new feature after early positive response from some businesses that tested it recently.

Source: TechCrunch
Back in Tidbits #20, Capital Flywheels flagged the roll-out of a shopping button. The button allowed consumers to quickly access a merchant's product catalogue.
The shopping cart function goes a step further and allows a consumer to group together multiple items of interest much like how a shopping cart works on other e-commerce websites.
This has the potential to supercharge WhatsApp commerce, especially in the emerging markets where WhatsApp dominates and where competing commerce options are much weaker.
#2 Amazon Holiday Shopping Update
Amazon released a post discussing independent seller trends on the platform including a lot of details about popular products by category.
The one quote that caught my eye:
Independent businesses selling on Amazon—nearly all of which are small- and medium-sized businesses—surpassed $4.8 billion in worldwide sales from Black Friday through Cyber Monday, an increase of over 60% from last year.

Source: Amazon
It caught my eye because it is smaller than what Shopify reported for Black Friday / Cyber Monday…
OTTAWA, Ontario–(BUSINESS WIRE)–Shopify Inc. (NYSE:SHOP)(TSX:SHOP), a leading global commerce company, announced today Black Friday/Cyber Monday weekend results, with sales of $5.1+ billion from the more than one million Shopify-powered brands around the world. From November 27 through November 30, total sales grew by 76% from the $2.9+ billion reported for Black Friday/Cyber Monday weekend in 2019, a record that was surpassed this year on Saturday, November 28, at 5:00pm ET.

Source: Businesswire
The Amazon number does not include their 1P sales, but if we only compare 3P sales on each platform, 3P merchants seem to already be making more money on Shopify instead of Amazon. Amazon likely generates more sales for 3P merchants throughout the year outside of holidays, but that may change soon, too.
---
Which brings me to this fascinating report Shopify put out on changing consumer online shopping habits. Here's some of the charts I found interesting:
#3 Future of Commerce 2021
People want to support local businesses, and they increasingly don't think shopping on a large marketplace's or big box retailer's website is the right way to do it.
Most people still do spend most of their time shopping on marketplaces and at big box retailers, but it may start to change…as we may be seeing in the Black Friday / Cyber Monday stats mentioned above.
And people are getting increasingly comfortable buying through social media.
Source: Shopify
---
A few weeks ago, the NYT published a great piece on Shopify with real-life examples of how it helps merchants (as well as where it lacks).
#4 Can Shopify Compete With Amazon Without Becoming Amazon?
The story of Shopify's rise, then, is in many ways a reaction to Amazon's. It's about a new generation of e-commerce merchants who want a shot at securing control by going out on their own. If the key to Amazon's success has been to put the customer first, for Shopify the key has been to put the merchant first. After Warby Parker kicked off the direct-to-consumer phenomenon in 2010, Shopify has, by removing the technical barriers to entry in e-commerce, played an outsize role in fueling a boom that has since produced indie favorites like Gymshark, Brooklinen and Allbirds. (The New York Times's merchandise store is also on Shopify.)

Now that companies like Shopify have turned software into a commodity, what distinguishes you isn't whether you can write code, but whether you have something to say and an audience to say it to. The roles of "creator" and "influencer," which began as ambiguous, relatively fringe side gigs, have become aspirational career paths: 86 percent of Gen Z and millennials recently surveyed said they would post sponsored content for money, and 54 percent said they would become social-media influencers. Influencers, in turn, have realized that it's more lucrative and meaningful to promote their own products rather than someone else's. With Shopify, celebrities like Kylie Jenner can leverage their pre-existing audiences on Instagram or Snapchat into billion-dollar e-commerce businesses seemingly overnight.

Source: NYT
People still think that Shopify needs to be viewed in comparison to Amazon. Yes, but…not really. Shopify may be in the e-commerce game now, but it's really more focused on building the single platform that can allow anyone to reach their consumer fanbase directly. It can be anything in the future in a way that Amazon is not not choosing to be.
#5 Delivering Holiday Cheer With Uber Connect
That's why we're rolling out Uber Connect – our package delivery service – to 2400+ new U.S. cities and towns starting today. We originally introduced the product in April, and have since designed a new end-to-end experience for more seamless Secret Santa gifting and sharing homemade treats to a loved one across town.

…

'Receive a package' delivery option: In addition to sending packages, users can now receive or request for a package. When you need to borrow hardware to hang your holiday lights, simply place the request with the 'Receive a package' feature.

Source: Uber
And if you think about it, what truly protects Amazon right now is Amazon Fulfillment and it's large logistics footprint. Shopify is partially attacking this advantage by investing in its own fulfillment network.
But other players like Uber have an opportunity, too. Uber may eventually have stronger last-mile capabilities than pretty much anyone. Uber has millions of potential deliver people, far more than any of the dedicated logistic players or even Amazon itself.
---
💰 Payments
#6 Hiring rapidly, U.S fintech startup Stripe plots Asia expansion
SINGAPORE (Reuters) – U.S. digital payments company Stripe plans to expand across Asia, including in Southeast Asia, Japan, China and India, after boosting its staff in the region by 40% to more than 200 people this year, a senior executive told Reuters.

Source: Reuters
Something to keep an eye on. While both Stripe and Adyen are both digital-first players with fundamentally different approaches to the market, they will eventually run into each other since the market is converging.
Adyen has so far been the clearest option for any merchant that needs / wants to operate across a large number of geographies since Adyen has payment licenses across most countries in the world whereas Stripe has been largely a US-dominated business.
But as Stripe expands aggressively across the world, Adyen's geographic advantage will start to narrow, leaving competition much more of a question of technology and features.
#7 Adyen and Microsoft Launch Network Token Optimization
Adyen, the global payments platform of choice for many of the world's leading companies, expands its collaboration with Microsoft to accelerate payments innovation for both companies with the launch of Adyen Network Token Optimization. Adyen is one of the first payment platforms to enable tokenized payments across multiple schemes and to offer automated optimization of the use of tokens to increase authorization rates. By adopting Network Token Optimization, merchants like Microsoft are able to realize significantly more revenue due to increased authorization rates.

Source: Adyen
While this story is only marginally interesting in its own right, it is another example of how merchant acquirers / processors and the networks (Visa / Mastercard) are starting to encroach on each other's turf.
As I've previously argued, what separated everyone was the physical world, but as payments get fully digitized, the playground will converge and everyone will have opportunities to push into new areas.
Here, Adyen is offering tokenization capabilities that Visa and Mastercard have been focusing on for a while. But the asymmetrical attack here is that Adyen is working with Microsoft to enable tokenization for any scheme whereas Visa only does it for the Visa network and Mastercard only does it for the Mastercard network.
The networks (Visa and Mastercard) have the most power in cards and are fully embracing the power of their network effects. The merchant acquirers are much weaker when it comes to Visa and Mastercard cards but they certainly have networks of merchants (this is their job after all) and networks of networks (e.g. Adyen enables merchants to tap many, many networks beyond Visa / Mastercard including Alipay, WeChat Pay, and local schemes across the world) that they can leverage as well.
It takes a network to fight a network. Network as destiny.
---
🧑‍💻 Technology
#8 FTC Sues Facebook for Illegal Monopolization
(CNN Business)Dozens of states and the federal government sued Facebook (FB) on Wednesday in twin antitrust lawsuits, alleging that the social media giant has abused its dominance in the digital marketplace and engaged in anticompetitive behavior.

The Federal Trade Commission, in particular, is seeking a permanent injunction in federal court that could, among other things, require the company to divest assets, including Instagram and WhatsApp, effectively breaking up Facebook as we know it. The states are also calling for the company to be broken up, if necessary.

Source: CNN
Google was sued a few weeks ago, and now it's Facebook's turn.
The Google case turned out to be milder than people expected (a good portion of it actually reads more like an indictment of Apple since the government argued that Google's payments to Apple for default search in Safari is anticompetitive).
However, the Facebook case reads much more forcefully. And the government is potentially interested in forcing Facebook to divest Instagram and / or WhatsApp even though these deals have been approved years ago.
The bar is high, though. The government will need to prove that Facebook not only engaged in anticompetitive practices but that consumers would have been better off if the deals did not happen…which may be hard to do since Instagram and WhatsApp were both tiny when Facebook acquired them with limited assets, limited users, and no business model.
---
💬 Media
#9 Roblox partners with Ernest Cline on Ready Player Two event
Ready Player Two, the highly anticipated sequel to Ernest Cline's worldwide best-selling book Ready Player One, debuts in the U.S. and U.K. on November 24. In a partnership, Roblox is launching a themed treasure hunt with seven user-generated games based on the book inside the Roblox platform.

It's one more example of the plans to bring about the metaverse (or in the setting of Ready Player One, the Oasis), the universe of virtual worlds that are all interconnected, like in novels such as Snow Crash and Cline's book.

…

Cline said in a statement, "Roblox is the closest thing to the Oasis in real life, and this contest is the closest thing to the treasure hunt in my book."

Source: Venture Beat
If you haven't read (or watched) Ready Player One, you should. Because, it will give you a better idea of where we are all heading in the future.
And this collaboration is fascinating because it is quite literally recreating a small version of the plot of Ready Player One.
#10 Cristiano Ronaldo Thrilled To Be Free Fire's New Chrono Character, Fans React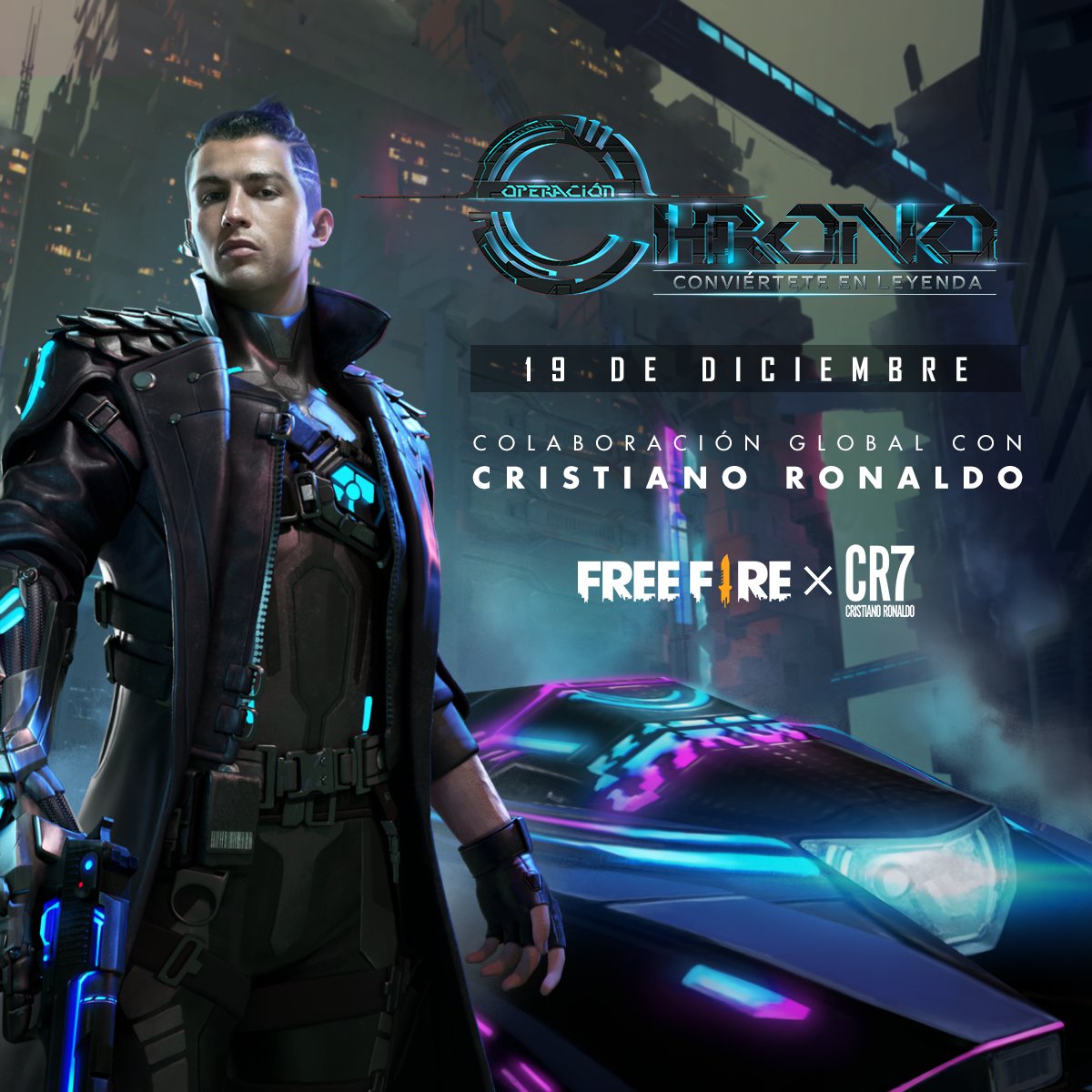 Free Fire fans were in for an early Christman surprise after the game's developers announced their partnership with five-time Ballon d'Or winner and Juventus ace, Cristiano Ronaldo. Free Fire has developed into one of the most popular battle royale games and was the most downloaded mobile game globally in 2019. The Cristiano Ronaldo free fire partnership means that the Portuguese legend will feature in the game as an all-new character named 'Chrono'.

Source: Republic
"It's a great feeling to not only have a Free Fire character inspired by me, but also for the entire universe within the game to change alongside him," Ronaldo said.

Source: ESPN
Seems to me like Free Fire is embarking on its own "metaverse" journey as well, much like how Fortnite and Roblox have evolved.
This partnership with Ronaldo not only builds on Ronaldo's work with Shopee, but also may lead to market expansion for Free Fire. In many countries, soccer is the most popular sport. With Ronaldo as a playable character (and he has admitted to being a huge Free Fire fan), it would dramatically raise the profile of the game to a lot more people.
#11 How Discord (somewhat accidentally) invented the future of the internet
Eventually, a lot of those gamers realized something. They wanted to talk to their gaming friends even when they weren't in a game, and they wanted to talk about things other than games. Their gaming friends were their real friends. As luck would have it, in early 2015, a new tool called Discord showed up on the market. Its tagline was not subtle: "It's time to ditch Skype and TeamSpeak." It had text chat, which was cool, but mostly it did voice chat better than anybody else.

…

Fast-forward a few years, and Discord is at the center of the gaming universe. It has more than 100 million monthly active users, in millions of communities for every game and player imaginable. Its largest servers have millions of members. Discord's slowly building a business around all that popularity, too, and is now undergoing a big pivot: It's pushing to turn the platform into a communication tool not just for gamers, but for everyone from study groups to sneakerheads to gardening enthusiasts. Five years in, Discord's just now realizing it may have stumbled into something like the future of the internet. Almost by accident.

Source: Protocol
---
🌎 Geopolitics
#12 Chinese team test jet engine 'able to reach anywhere on Earth within 2 hours'
Chinese scientists have built what they claim is a revolutionary plane engine for Mach 16 flight. An aircraft powered by the engine could reach anywhere in the world within two hours, they said.

Source: South China Morning Post
Truly impressive. Only tested in a wind tunnel so far, but if operationalized, this would have massive implications, including in the military sphere.
The article mentions that Mach 16 is so fast, there is no existing wind-tunnel that can actually test it (the prototype was tested in a slower wind tunnel, but still faster than anything in operation today). Such a wind tunnel is under construction in Beijing.
There's also some fascinating discussion in the article about the development of this technology. Turns out it was originally theorized in the 1960s-1980s in the US. But then the US reorganized some of its spending and offloaded it to NASA and private companies like Lockheed and Boeing. And in short order, people sort of forgot about it until China decided to explore the ideas again.
---
Meanwhile…the private companies in the US are all working together to return people to the moon.
#13 Blue Origin's space industry all-star team submits proposal for landing system to carry humans back to the moon
Blue Origin's submitted proposal is for the so-called Option A portion of the NASA HLS proposal ask, which is set intentionally to provide the right timing for the current 2024 target for the first human landing to take place during the Artemis series.

Source: TechCrunch
As a technology optimist, Capital Flywheels is encouraged and inspired to see that people are starting to pursue large-scale technology projects, again, as opposed to the focus on software and miniaturized tech (semiconductors, for example) over the last 4 decades.
The vast majority of the modern technologies we enjoy today were byproducts of World War II, the Cold War, and the Space Race (including computers, GPS, the internet, rockets / spaceships)…the return to large scale technology projects (perhaps partially catalyzed by concern over China) should eventually lead to major breakthroughs in the future.
And there's multiple players contributing. In addition to Blue Origin, we have SpaceX and Dynetics.
SpaceX:
Dynetics:
Source: TechCrunch