This post is part of a series. This is Part 4.
Part 1 – "The Coming Economic (R)Evolution" discusses the rise of technology and the creation of digital businesses that no longer need labor or capital…and why understanding their impact on the economy is necessary to navigate the shifting investment landscape in the coming decades.
Part 2 – "Empire(s) of the 21st Century" discusses how technology has eclipsed geography as the most important factor in geopolitics…and why this could potentially shift geopolitical competition from "country vs country" to "country vs tech".
Part 3 – "A Physical World Under Siege" discusses how geography ensured US global supremacy…and why technology is destroying that geographic advantage.
Part 4 – "Democracy and the Fragmentation of the Internet" discusses how technology is undermining democracy by creating divisions within our governing system in ways that it was never designed to handle…and how investors should approach technology in a fragmenting world.
Part 5 – "Reshuffling the Geopolitical Deck / How Technology Resets the World" discusses how technology reshuffles the global geopolitical deck, potentially freeing lagging countries from poor geopolitical and economic cards…and why this creates opportunities for tech investors in developing markets (while complicating geopolitical affairs).
---
Every well-meaning American believes that democracy is a natural evolution for society – As peoples and countries get wealthier and more educated, people and society will naturally desire more and more freedoms and the freedom to choose their leaders. The desire for democracy is believed to be a function of primarily education and wealth.
This view is deeply ingrained in the American mind.
While every well-meaning American believes this to be true, it leaves out a critical consideration: Safety and security.
Although there are strong reasons to believe that people do generally want more freedoms over time, security and safety is almost always a more important consideration.
This makes sense – Without ensuring our personal safety as the first and most important necessity, none of us would be able to enjoy any of the benefits of additional freedoms.
Freedoms do not matter to the dead.
Rights do not matter to the dead.
And history overflows with evidence that this is the case.
For example, a number of democracies have willingly elected autocrats and dictators when people feared for their personal safety.
Italy's Mussolini was elected in 1924 and went to establish single-party rule that was reaffirmed through subsequent elections in 1929 and 1934.
Source: BBC
Likewise, Germany's Hitler and his supporters were elected to government throughout the 1920s before Hitler outmaneuvered political opponents to become Chancellor in 1933.
Source: NYT
Even in modern times, a number of current autocrats were originally elected to power. However, once in power, many of these autocrats have used the power of their position to ensure they stay in power even when the people's support begins to fall.
You likely already knew the two examples above, but the following examples may be more surprising:
1/ France revolted against the extravagant lifestyle of King Louis XVI and Marie Antoinette (via the bloody guillotine) in order to seek "Liberty, Equality, and Fraternity"…but then went on to elect Napoleon Bonaparte as First Consul in 1799 and then as Emperor in 1804 with 99% of the votes.
Source: Wikipedia
2/ Even Taiwan and South Korea – two countries that are viewed as vibrant democracies today – were ruled by autocrats for decades following the end of World War II.
In Taiwan, Generalissimo Chiang Kai-shek ruled for more than 25 years, with elections suspended for decades.
Source: Wikipedia
And in Korea, Syngman Rhee led the democratic First Republic into increasingly authoritarian rule that would take decades to shake off:
Source: US Embassy in Korea
The history of South Korea formally begins with its establishment on 15 August 1948.

…

The First Republic, arguably democratic at its inception, became increasingly autocratic until its collapse in 1960. The Second Republic was strongly democratic, but was overthrown in less than a year and replaced by an autocratic military regime. The Third, Fourth, and Fifth Republics were nominally democratic, but are widely regarded as the continuation of military rule.[1]With the Sixth Republic, the country has gradually stabilized into a liberal democracy.

…

After the [Korean War] armistice, South Korea experienced political turmoil under years of autocratic leadership of Syngman Rhee, which was ended by student revolt in 1960. Throughout his rule, Rhee sought to take additional steps to cement his control of government.

Source: Wikipedia
What's fascinating about these examples is that these governments represented people that were fighting against autocracy and monarchy, yet willingly chose autocrats of their own. The French overthrew their king to elect an emperor. And both Taiwan and South Korea had autocrats of their own while fighting against Communist autocrats in mainland China and North Korea, respectively.
The common thread through all of this is that national security matters…a lot…and autocracy and democracy are not necessarily mutually exclusive.
When people feel unsafe, people may very much choose to have an autocrat.
While I cannot prove this definitively, these examples (and history contains even more) should at least suggest to you that democracy is not an inevitable evolution of society. In fact, history seems to overwhelmingly suggest that democracy is possible only when external security can be established first.
When external security is a concern, people prioritize safety…and often times, autocracy is the most effective and efficient way to deal with fast-moving security threats.
This makes sense – Security threats require quick decisions. A single decision maker is more efficient than any other form of government that involves more people.
More interestingly, in almost all examples in history, autocrats are eventually removed either by foreign adversaries (i.e. the autocrat fails to defend the state from foreign security threat) or by their own people when autocrats turn on their supporters and jeopardize their personal security. Outside of these two failures, many autocrats may enjoy long periods of power.
As a result, it may be more accurate to say that democracy and non-autocratic governing systems is possible only when security concerns are met / low.
This brings us to the US…
Democracy was not invented in the US.
Democracy existed as far back as the 5th Century BC in Athens.
And as early as the 12th Century, the English were already pushing for more freedoms and voice in government against their English kings and queens.
The point is, people have wanted freedoms and democracy for thousands of years, but very few societies actually achieved it.
Modern Americans might say this is because education and wealth were not at sufficient levels for this to happen, but Capital Flywheels firmly believes it is because the necessary security conditions were not met.
For example, why then was Athens the only major democratic state in ancient Greece? Athens was situated on a narrow peninsula, protected by sea on 3 sides and mountains to the north.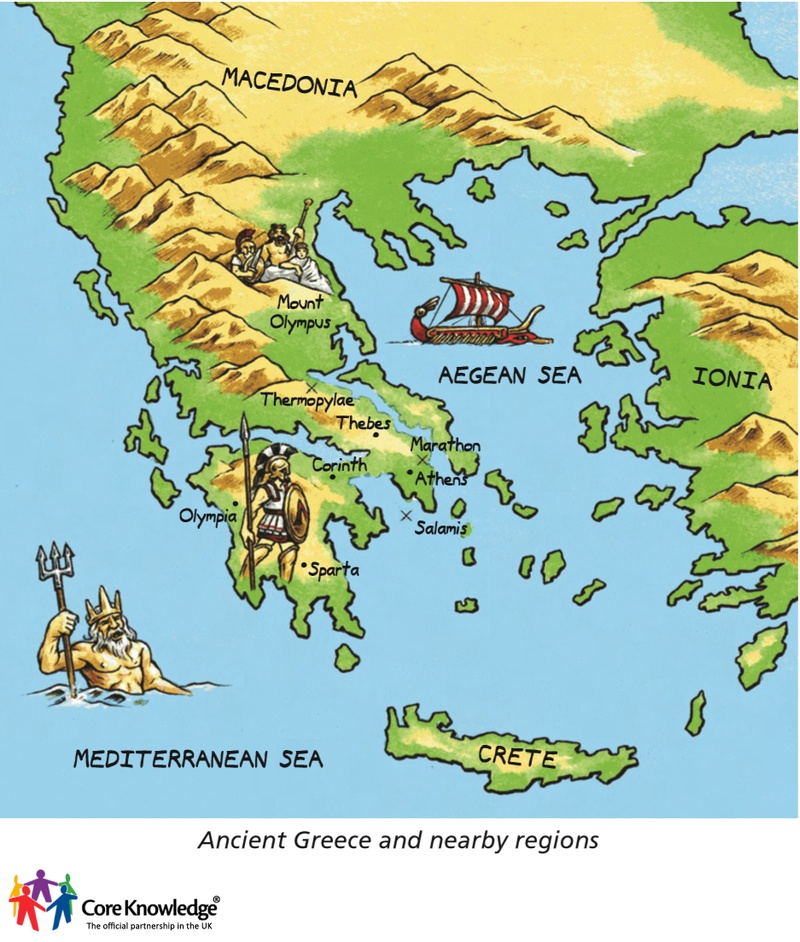 Source: Mr. Lovera's Virtual Classroom
Why then was Sparta not a democratic state but rather a military state? Sparta was situated on a materially larger open land mass, exposed to the external world and unfriendly neighbors.
Source: Wikipedia
For example, why then was England the first of the European states to embark on the path to democracy despite linked heritage and philosophy with the rest of Europe? Perhaps, England's defensive advantage as an island nation allowed them to pursue a less efficient form of governance in a way that continental Europe could not. Spain, France, Germany / Prussia, Russia, etc. are all exposed to foreign land security threats in a way that England was not.
Source: Geology.com
And, it has nothing to do with when the ideas came to people's minds…the idea of democracy was already circulating in Europe since ancient Greece.
As I discussed in Part 3 – "A Physical World Under Siege", the US' superior geography has likely enabled the formation of democracy in a way that is very hard to achieve in any other part of the world.
Countries of the Old World (Europe, Africa, Middle East, and Asia) did not inherit two of the greatest defensive assets the world has ever known – the Pacific and Atlantic Oceans.
The US (and to some extent, Canada) inherited them.
Source: Transpacific Project
And best of all, these two ultimate defensive assets were free. Allowing the US to spend less defending itself while spending more in areas that would push the US along the technology and education curves far faster than any other country in modern history.
Again, I cannot prove this definitively, but there is at least some evidence that suggests this is true. With security needs met, the US was able to implement democracy in a more robust way than any other country in history.
Furthermore, many countries have increasingly become democratic in the past few decades after the US established Pax Americana and guaranteed peace around most of the world. Returning to the examples above, Taiwan and South Korea were both ruled by autocrats when national security concerns dominated, but once security concerns faded (partially with the help of the US), both became vibrant democracies.
If this view of the world is true, the rise of technology is potentially concerning.
The rise of technology has actually materially weakened the defensive power of the Pacific and Atlantic Oceans, and may increasingly lead to greater national security threats that encourage autocracy.
Historically, the US can only be invaded by a foreign power if they have naval capabilities that can traverse thousands of miles of deep water.
Naval capabilities are very hard to develop, and few nations have ever developed them.
The US has only been invaded once in its history during the War of 1812. And the invading country, the UK, commanded the world's most powerful navy at the time. And even then, the UK was not able to successfully capture and control the US.
But, whether you realize it or not, the global internet has materially weakened the defensive power of our two oceans and have exposed the US to constant attacks by adversaries in a way that the US has never had to deal with before. It has allowed foreign adversaries to take the modern sources of wealth and economic growth (technology and intellectual property) without ever having to cross the ocean or outgun the US Navy. It has also exposed US infrastructure to digital attacks and has exposed the US populace to disinformation attacks.
While technology has made the US powerful and is an extremely important driver of progress and development, our implementation of a global internet has likely raised the cost of existence in a way that is making democracy difficult to maintain.
As you know, the tech industry is drawing a lot of attention and concern.
One particular area of concern is how to balance the American ideal of free speech against the harmful amplification of misinformation.
How do you balance allowing people to do what Americans have always preached (more freedoms, more liberty, more free speech) against the poison of misinformation?
And the arguments and debates are forceful from every direction, and ultimately…complicated and confusing.
Everyone has their view on why it is hard to address and why it is confusing, but I think there is a very important angle that people are missing:
If you go back to the establishment of American ideals and ideology back in 1776, and you look deeply…and listen deeply…history will whisper to you a truth that may be hard to accept: American ideals were meant only for Americans. Yet in our modern day pursuit of these ideals, we are extending these "rights" to people globally through the internet, even to adversaries and citizens of adversarial nations.
Yes, the Declaration of Independence claims that there are inalienable rights that belong to all men (women and slaves were not yet included as of 1776), but the rights extended only to persons physically within our borders.
More importantly, you can see it and hear it when you look at the structure of our government.
At the founding of our nation, Congress was created to govern domestic affairs (and even then, most governing and laws were intended to be done at the state level, not at the Federal level), whereas the President / Executive Branch was intended to be mostly ceremonial when it comes to domestic affairs. However, the President did have important foreign-facing functions including power and command over the army. Our first president, Washington, was a general.
Source: The Archive
The office of the President has evolved dramatically over the last 200 years, but initially the President had almost no domestic powers.
Why is this important?
This observation is important because the office of the President is the single position in this country that comes closest to resembling an autocrat or monarch.
If you listen, history and the founding fathers of this country will whisper to you that domestic affairs were intended to be governed by groups of people (e.g. Congress) and hence most representative of democratic ideals, whereas foreigners should be managed by an autocrat-like entity.
This makes sense!
When it comes to national security issues, autocracy is more efficient. The office of the President was created in a way to reflect that view.
In other words, people of this country deserve to be governed by a system that is most democratic with decision making done by groups of people representing the general populace. However, when it comes to foreign affairs and foreign threats, that should be dealt with using the same system that dominates and dominated the rest of the world for almost all of history – autocracy and monarchy.
But the President was never intended at the founding of our nation to have powers over domestic affairs.
However, this has changed. By the 20th Century, especially under Franklin D. Roosevelt, the power of the President has dramatically expanded and now encompasses a wide variety of domestic powers.
And this is where tech becomes tricky.
Tech has redrawn how the world works and has changed the world's geography and geopolitics.
On a physical map, it is easy to point out what is domestic and what is foreign. The 50 US states in its familiar shape is domestic. And anything outside of it is foreign.
But tech has redrawn this map. Everyone now exists and communicates in one single internet.
What is considered domestic and what is considered foreign on the internet?
Capital Flywheels believes this is the crux of our problems. Because the internet is one single thing, we are struggling to understand where American ideals begin and end.
We are extending American protections to people that are not on American soil and have no guaranteed American loyalties. In fact, we are actively extending American protections to foreign adversaries in a way that our founding fathers never intended and likely never thought possible.
And on top of this, the re-drawing of the map of the "world" has set up our government for unavoidable in-fighting.
Remember – Congress is ultimately the entity that creates laws and governs domestic affairs, whereas the President (even today after decades of domestic power expansion) is still an office that is best described as governing foreign affairs.
But is the internet domestic or foreign?
Should the affairs of the internet, this new digital world we all live in, be governed by Congress (a more representative body) or should it be governed by the President (a more autocratic body)? (Or should it be governed by the platform gods that control the internet with states and governments ceding that power?)
All domestic Americans spend their time on the internet…so it is certainly a domestic issue. At the same time, every single foreigner and all our adversaries are also on it. And as mentioned above, the internet has removed our defensive ocean barriers…is this not an important foreign-facing issue bordering on national security concerns?
These questions have set Congress and the Executive Branch on a collision course that may result in fundamental changes to our government structure.
This is not a unique problem for the US. In fact, every nation faces this same exact issue. However, most nations have already been facing foreign threats for thousands of years. It is only the US' position of relative peace historically that is now leading to this extraordinary change in circumstances.
Capital Flywheels is not sure how views will shift, but one thing is for certain…tech (in particular social media) will need to change because the current global internet we are used to is not sustainable, especially when it comes to political discourse.
Capital Flywheels believes the long-term trend is for the internet to localize and fragment. Any tech company that depends on global integration will likely see adverse changes. Internet companies that can localize or serve as underlying infrastructure without touching the toxic concerns of the user side of the equation are likely the best positioned.
These will be the 5x, 10x, 100x, 1000x companies of the next few decades.
But only if the world survives this transition.